Reading Time:
6
minutes
Dental health is vital to your overall well-being. However, few people know much about the various types of dental insurance, how they work, or how to leverage them to keep their dental and overall health in good shape.
In fact, about 28 percent of Americans don't have any dental insurance at all. Among those who do have it, many make costly mistakes with how they use it.
So let us guide you through how dental insurance works, understanding dental insurance billing and plans, and the questions you need to ask yourself to make sure you choose the best option for yourself and/or your loved ones.
How Does Dental Insurance Work: What's Covered, What's Not
In America, the Affordable Care Act (ACA) doesn't provide dental coverage for adults and there are no penalties for not having it. This is because health insurance and dental insurance are entirely separate from each other. In some ways these types of insurance are similar, but there are also distinct differences in how coverage works.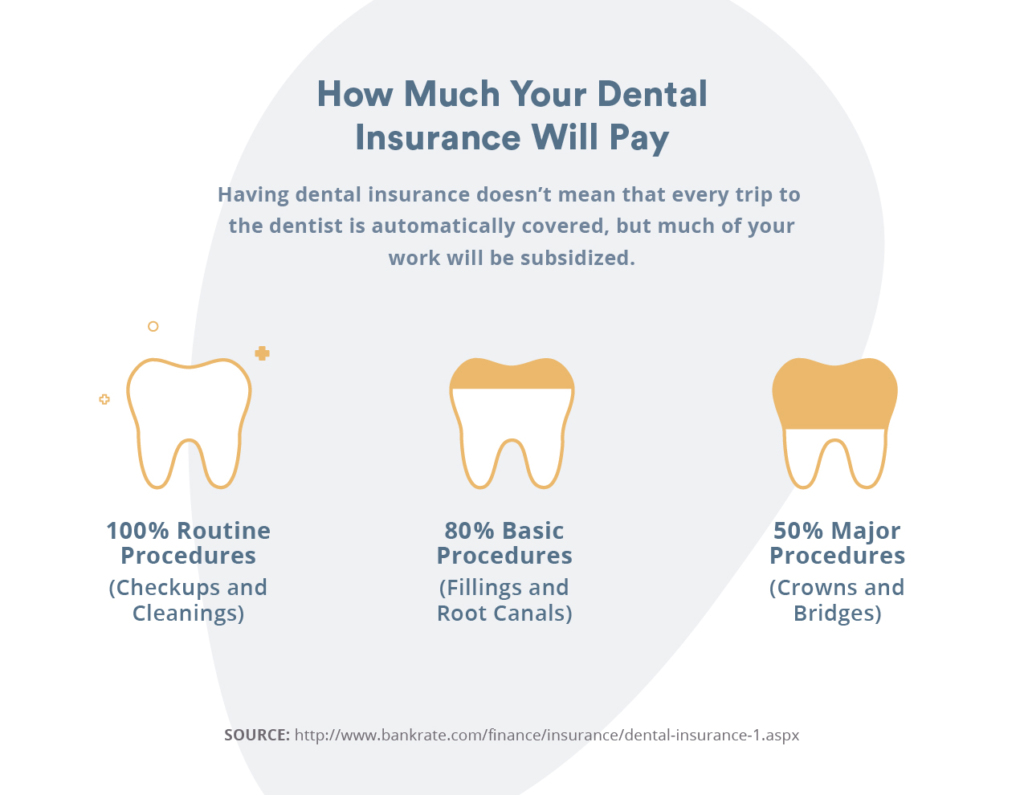 Dental insurance policies can vary widely depending on the provider. You pay a premium based on the type of plan you choose and where you're located. Many people pay around $50 per month. You may also have a deductible to pay before your insurance pays for any procedures.
In general, dental insurance breaks procedures into three categories: Preventative, basic, and major.
Usually, preventative care—such as twice annual cleanings, checkups, and x-rays—are completely covered with insurance. Sometimes the wording may be explicit about paying for a preventative visit every six months (but not closer together), while other policies may be more lenient within a 12-month period.
Basic procedures like silver fillings, root canals, or dentures are often 80 percent covered. You're only covered 50 percent for major procedures, which may include crowns (which you typically get after a root canal), implants, and more. You cover the remaining costs out of pocket. The balance you pay is called coinsurance. At the time of the procedure, you may also have a copay. A copay is a set dollar amount you contribute.
However, there's a bit more to dental insurance than just the 100-80-50 structure and your premiums.
First of all, most dental insurances have a waiting period of six to twelve months (or more) before they will cover anything besides preventative care. Periodontics and prosthodontics might not be available in your first year. If you need a major procedure just a few months after signing up for dental insurance, they likely won't help with any of the costs. Also note that dental plans may not cover any pre-existing conditions.
A significant way in which dental insurance is different than health insurance is how annual maximums work. Whereas your health insurance might cover all costs after your deductible, dental insurance doesn't work this way. Dental insurance has an annual maximum of what it will pay, which is typically around $1000-$1500 per year. After that, you pay out of pocket for all costs until the next calendar year. All of the costs mentioned are for during regular business hours. Prices may vary for after-hours visits or urgent care.
We reward you for staying on top of your health!
Dental insurance will not cover any cosmetic procedures. Cosmetic procedures may include teeth whitening, veneers, tooth shaping, and gum contouring. Some policies cover braces, but others require a rider. A rider doesn't come with a basic insurance policy, but is instead a provision that adds benefits or amends the terms of the policy.
Different Types of Dental Insurance
Dental insurance prices vary depending on where you live as well as which type of dental insurance you choose. The plan you choose will affect your premiums, which dentists are covered, and the percentage of procedure costs you'll pay.
Dental Health Maintenance Organization (DHMO)
DHMOs, also referred to as Dental HMOs, work similarly to a health insurance HMO.
This type of plan provides a network of dentists who accept the plan for a set copay or no fee. Members receive discounted rates for services and this type of plan typically has the lowest premiums, no deductibles, and no annual fee. Depending on the plan, your waiting period for major dental work may be short or nonexistent. The most significant downside to a DHMO is you're unlikely to be allowed to see an out-of-network dentist.
Preferred Provider Organization (PPO)
PPO insurance usually has a broader network of approved dentists than a DHMO plan. You can choose to see a dentist outside the network, but it costs more. In exchange for more dental options, members pay higher premiums and deductibles. PPOs often have a maximum amount they'll reimburse each year and some have a waiting period before coverage starts.
Point of Service Plans (POS)
A POS plan combines elements of an HMO plan and a PPO plan. The plan allows the use of out-of-network services, but the benefits are much less than if you use an in-network provider. Your benefits are determined at the time of service, depending on whether the dentist is in the network or not.
We reward you for staying on top of your health!
Dental Indemnity Insurance
Indemnity dental insurance, also referred to as "fee-for-service," is usually only available to groups of people through workplaces. Your chosen plan reimburses a percentage of the dental provider's fee. This type of insurance typically covers the broadest range of procedures, but they still have a few exceptions. The good news is that they usually have lower deductibles and higher maximum coverage limits than other plans. However, you have to pay a deductible upfront and your premiums tend to be higher.
Table or Schedule of Allowances Plans
These are indemnity plans that pay a predetermined dollar amount for each of your procedures—no matter what the actual charges are. On your end, you pay the difference between the charged fee and the carrier's payment. Sometimes your plan is paired with a PPO to limit how much the dentists are allowed to charge.
Direct Reimbursement
Unlike how other plans focus on the type of treatments you receive, this insurance bases your benefits on dollars spent. This self-funded (or employer-funded) plan allows you to choose what dentist you want to see. Depending on the terms of the policy you choose, you either pay the dentist directly or your benefit is assigned to the dental office. You then sometimes submit a paid receipt or other proof of treatment. Finally, you're reimbursed a percentage of the dental costs.
Dental Discount Plans
Technically, dental discount plans aren't a type of insurance, but they do save you money on dental care. You pay a fixed annual fee and in return receive a predetermined discount off the standard price of the dental treatment. In most cases, your annual fee covers your preventative cleanings and checkups as well. Dental discount plans have a much simpler structure than insurance plans, so you don't have a lot of paperwork to complete and instead receive your discount right away. These plans used to be sold only to individuals, but it's becoming more popular for employers to purchase these plans for company employees as well.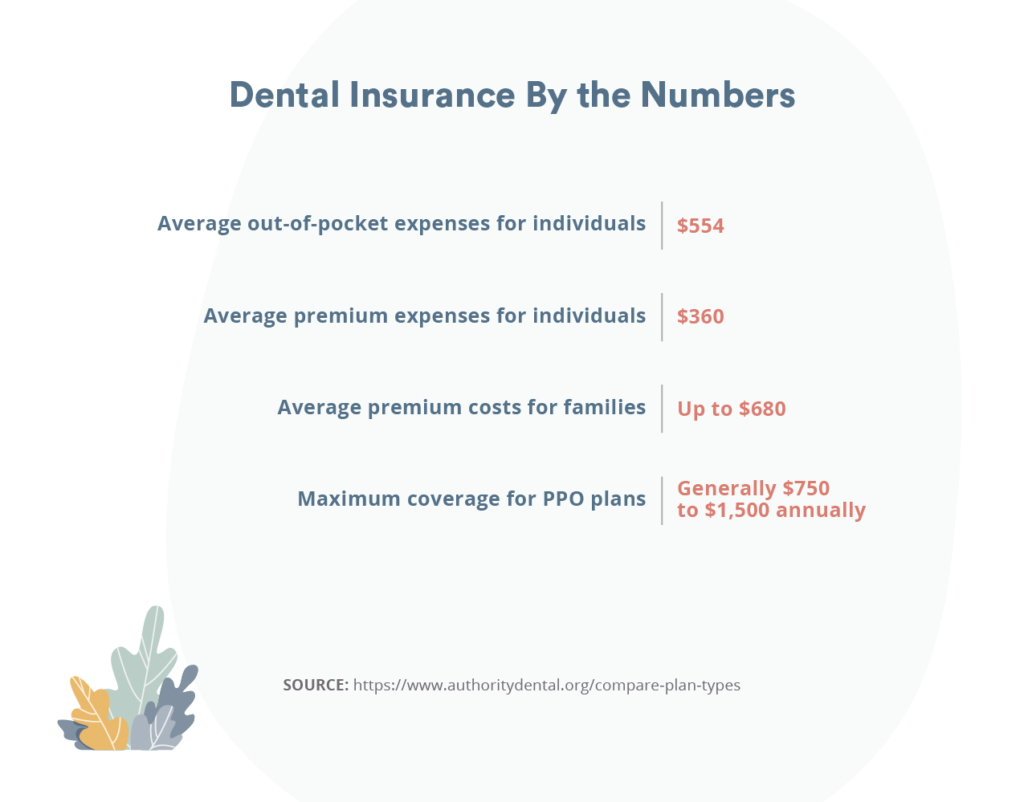 Why You Should Always Try to Choose an In-Network Dentist
Several types of insurance plans will charge you more money if you use an out-of-network dentist rather than an in-network one. An in-network dentist is one who has an agreement about the terms and provisions with your dental insurance provider.
This agreement means the procedural fees are set and you have a better idea of what you'll end up paying—which is usually less with an in-network dentist.
The majority of dental offices will accept your insurance even if they aren't in network. This can result in you paying far more than anticipated. They don't have any agreements with your insurance on what appropriate prices are for procedures. If they decide to charge more than your insurance expects, you're the one who has to make up the difference out of pocket.
Questions to Consider When Choosing Dental Insurance
Several factors affect which type of dental insurance is best fitted to your situation.
In most cases, dental benefits from an employer are an affordable, easy choice. However, this isn't an option for all people. Ask yourself these questions when you need to choose a dental insurance plan on your own:
Is there a specific dentist or specialist I want to see?

What is the annual maximum?

What is the deductible (if any)?

Is there a waiting period for coverage?

What is the copay percentage?

Are there limitations for pre-existing conditions?

Is there emergency treatment coverage?
If you're considering investing in dental insurance, it's essential to understand how it works. Knowing the key differences between types of dental insurance plans, and choosing the best option for you, could end up saving you a significant amount of money.
In some situations, dental insurance may end up not saving you money at all. It's always worth the time to research which plan would likely benefit you most. No matter which type of dental insurance you choose (if any at all), the best way to save money on dental care is to keep your mouth healthy. Make sure to brush, floss, and visit a dentist regularly.
We reward you for staying on top of your health!