Reading Time:
6
minutes
You may need to visit a dentist several times per year depending on your oral health. Choosing a dentist plays a big role in how you feel about going. If you dislike your current dentist, you're more likely to dread appointments. Most dental patients wouldn't recommend getting work done with their present dental provider and only around 25% of Americans are extremely satisfied with their oral health. Unsatisfied with your current dental care? Don't delay in finding a new dentist. It's better to find one now than when you're in the midst of a dental emergency.
Find a top rated dentist near you that takes your insurance.
What to Look for in a Dental Practice
Let's look at the factors you should consider when choosing a dentist. Not all dental practices are equal and selecting the best dentist can save you time, money, and stress.
Dental Costs
Research firm Futuredontics surveyed over 3,000 individuals designed to mimic the U.S. population's demographic distributions. They found 42% of patients would change dentists if their current practice stopped accepting their plan. 34% said they would switch dentists over what they considered to be "too high of prices." 
For those with dental insurance, procedure prices vary widely depending on whether or not a dentist accepts your insurance. Even if they accept your insurance, the price will be very different depending on whether the dentist is in-network or an out-of-network provider. 
If you're paying out of pocket for dental work you especially need to prioritize cost comparisons. Find out how much your expected dental bills would be with new dentists you're considering.
Ask if they offer multiple payment options, such as credit cards or payment plans. Learn how much you have to pay upfront and if visits outside of regular office hours cost more. If your dental insurance plan requires referrals to specialists, see if that dentist could provide them.
Dental Qualifications & Work Quality
The top reason patients change dentists is poor quality of work. Futuredontics found 46% of survey respondents said they would leave a dental practice if the quality of care was too low. Quality work makes it less likely you'll have to return quickly because of procedures done improperly. Without meeting dentists personally, one way you can estimate their work quality is through their professional qualifications.
Dentists are required to either be a doctor of dental medicine (DMD) or doctor of dental surgery (DDS). They also have to pass national and state exams to be licensed practitioners. The majority of state dental boards have websites where you can verify dentists' licensures and check if they've had any disciplinary actions taken against them. You can also ask the dentist's office about the dentist's training.
Depending on your dental needs, it might be useful to ask if the dentist specializes in any areas, such as:
Orthodontics (treating misaligned teeth)

Periodontics (gum care)

Endodontics (root canal therapy)

Pediatric Dentistry (youth dental care)

Prosthodontics (fixing broken or missing teeth)

Oral/Maxillofacial Surgery (surgery of the face, mouth, and jaw)
Feel free to ask where a dentist earned their degree and, if it matters to you, how long they have been practicing. You may also want to inquire if they have been taking any continuing education classes or if they attend conferences regularly.
If your primary language isn't commonly spoken in the area, make sure to ask if your dentist speaks your language or if the practice offers interpreter services. Another hint towards dental care quality is the type of equipment used. A practice with newer, advanced technologies may be able to provide better care than one using older equipment.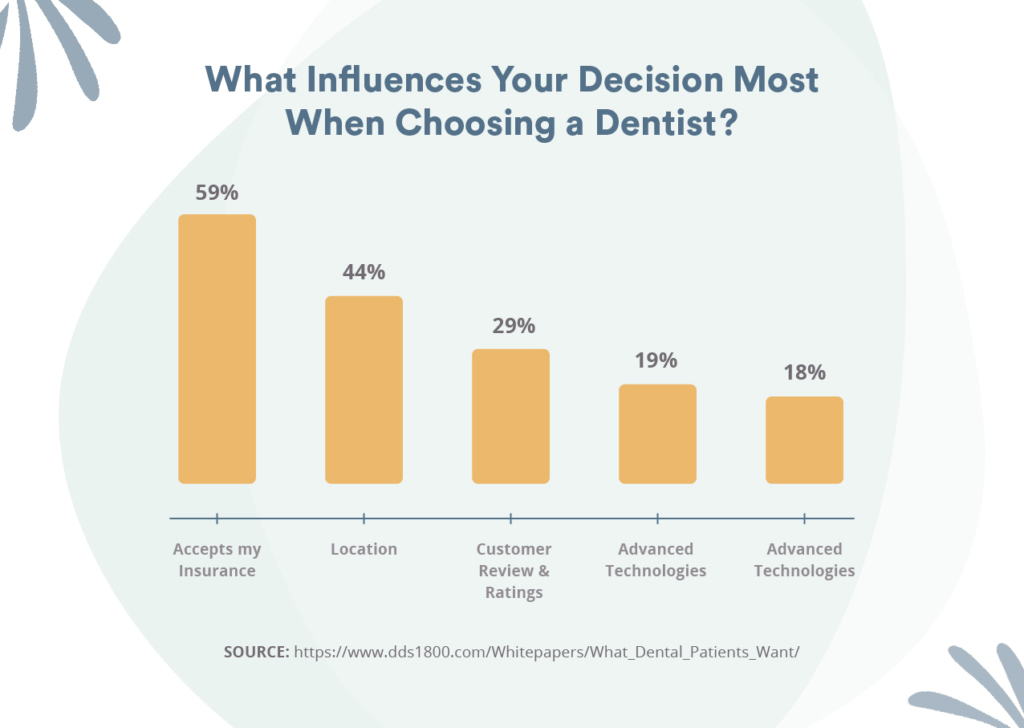 Dental Office Hours & Location
You don't want to have to take off work and drive far away every time you need to visit the dentist. Reasonable office hours and a convenient location are essential when choosing a dentist. When looking at a dental practice's hours, learn what happens if you need emergency care, both during regular hours or after hours. Does an automated recording refer you to a hospital emergency room or are you able to contact your dentist directly?
Check what your commute to the dentist would be from your home and work. People without reliable transportation will especially want to make sure they select a dentist nearby. Find out if you can use one central dental office for all your dental care needs or if you would have to go to separate locations for different procedures. If you have children, it's easiest to have them go to the same dental office as you, so see if the practice has pediatric dentists.
Find a top rated dentist near you that takes your insurance.
Ways to Start Your Dentist Search
One of the best ways to go about choosing a dentist is to ask trusted friends and family members for recommendations. Around 84% of dental patients talk to coworkers, friends, and family for advice when searching for a dentist. These people can give you their unbiased opinions and answer your questions honestly.
Some questions helpful to ask include:
How comfortable do you feel asking questions?

Does the dentist explain treatment options well?

How far in advance do you need to book appointments?

What happens in the event of a dental emergency?

How long do you sit in the waiting room?

Is it possible to book appointments online?

How is payment handled?
Another source you can ask for dental referrals is your physician or hospital. They often have names of dentists they frequently refer patients to visit. If you like your current dentist and are only switching because you're moving, he may also be familiar with top dentists in your new area. Or, you can check online reviews of dentists on Yelp and Google. Read several reviews as just reading one or two can be misleading.
These reviews are usually more trustworthy than testimonials on a dentist's website. However, dentist's sites are still worth viewing. Some dentists create blog posts that show their expertise on various dental topics. A website may also have answers to many of your questions about a dentist's qualifications.
The American Dental Association's Find-A-Dentist tool is a useful way to start a dentist search as well. You can sort by name, specialty, and location. Local dental societies typically have lists of dentists in your area too. If cost is a significant factor in who you choose as your dentist, consider calling your dental insurance company to learn which dentists take part in your dental company's plans.
People without dental insurance can get lower prices by visiting dental schools. Typically the care is provided by dental students who are supervised by licensed dentists. Note that you usually have to book appointments at these schools fairly far in advance.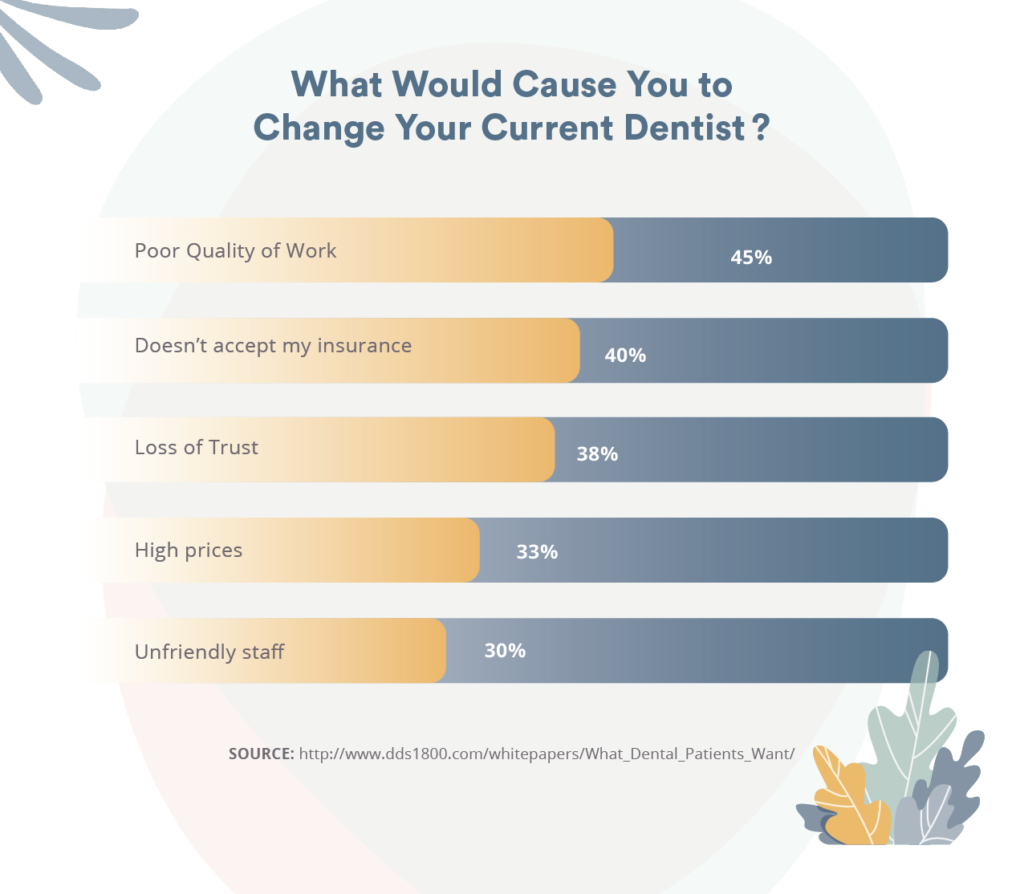 You now know the qualities you want in a dental practice and have narrowed your search through referrals, reviews, and other research. Next, you should stop at each dental office for a quick visit. Note how long it took you to get there, if there is ample parking, how comfortable the waiting room is, and if the staff members are friendly.
When you find an office that seems workable, schedule a general exam for x-rays and a cleaning. You may need to bring a copy of your dental records or have your last dentist's office send over a copy. Don't be nervous about asking the receptionist questions about no-show policies and if they have on-call dentists. You can ask your dentist about the technology being used as well as any other questions that come to mind.
Hopefully, the dentist takes an interest in your oral health, answers your questions, and asks you questions as well. Learning about your dental history and lifestyle habits can give a dentist insights into how frequently you need checkups and if you require any immediate dental procedures. During your appointment, you'll notice whether your dentist seems personable, patient, and interested in your oral health.
If further dental procedures are recommended, see if your dentist is willing to explain the reasoning behind the suggestion. A defensive attitude is a bad sign. 
If you plan on bringing children to this dentist, take them with you on the initial visit to gauge their impression. What might seem like a fine environment to an adult can come across very differently to a child. For example, a toddler may need a waiting room that provides games or other entertainment.
Maintaining your oral health is crucial for your overall health and, the better your dentist, the more likely you are to keep high standards for your dental health. When choosing a dentist, take the necessary time to search and compare so you can stay who you select for years to come. Dental prices, the quality of work, office hours, and location should all be top factors in your decision. After your search, whether it starts through recommendations or reviews, inquire for further information. Finally, visit practices to see who seems like the top choice. Doing your due diligence early on will save you time and headaches (or toothaches!) later.
Find a top rated dentist near you that takes your insurance.