Reading Time:
7
minutes
According to the American Dental Association (ADA), nearly half of adults admit that they haven't kept up regular trips to the dentist. Why? Because of the cost.It's true that dental procedures like root canals, cavities, and even simple cleanings aren't cheap these days, with out-of-pocket costs easily running into the thousands. This is where dental insurance can help. 
This article looks at the steps you should take before selecting a plan and how to get dental insurance. Still unsure? We have answers to some of the most commonly asked questions that will give you the confidence to get and use your insurance like an expert.
What to do before getting a dental insurance plan
Thanks to today's easy-to-navigate websites, purchasing insurance only takes a few minutes. But before you grab the easiest (and cheapest) plan available, follow the steps below to make sure what you pick will work for you.
Find a top rated dentist near you that takes your insurance.
Step 1: Who needs coverage?
Are you looking for coverage just for yourself? Or do you have a spouse or kids whose dental costs you'll also need help covering? If you're in the latter group, you need to consider your dependents. Determining just who needs dental coverage is step one. Single and loving it? Skip to pre-existing conditions. 
Did you know dentists who treat kids often require training in pediatric dentistry? With its own special training and skill set, this type of dentistry is covered in some packages and not others. Full coverage plans will be your best option if you think your children will need braces. Overall, when purchasing dental insurance for kids you will need an idea of which pediatric dentists are within your coverage networks and what services are included in the plan.
Step 2: Understand pre-existing conditions
The Affordable Care Act made it illegal for health insurers to deny coverage for pre-existing conditions, however, this only applies to health insurance. Dental insurance is, unfortunately, not clearly included under this act.
Pre-existing dental conditions — conditions experienced before you get dental insurance — can sometimes lead to the denial of insurance claims. Pre-existing conditions can include missing teeth or diagnosed gum-disease but can vary by plan. Figuring out if you have a pre-existing condition will help you find insurance that offers you coverage.
Step 3: Budget for out-of-pocket expenses
Budgeting for dental expenses isn't impossible as long as you read through the insurance plan details and then compare.
Find out the co-pay amount and how much of a deductible you will need to pay before the insurance kicks in. Deductibles can run upwards of $1,000, so it's important to try to set this money aside ahead of getting dental work done. That's part one of your budget done. The type of dental insurance that a person has will typically guide how much they pay for services. Insurance plans often follow a 100-80-50 rule. Many plans also have $1,500 maximums that they'll payout to claimants annually, though there are exceptions. Compare different plan options to see which out of pocket expenses fit within your budget.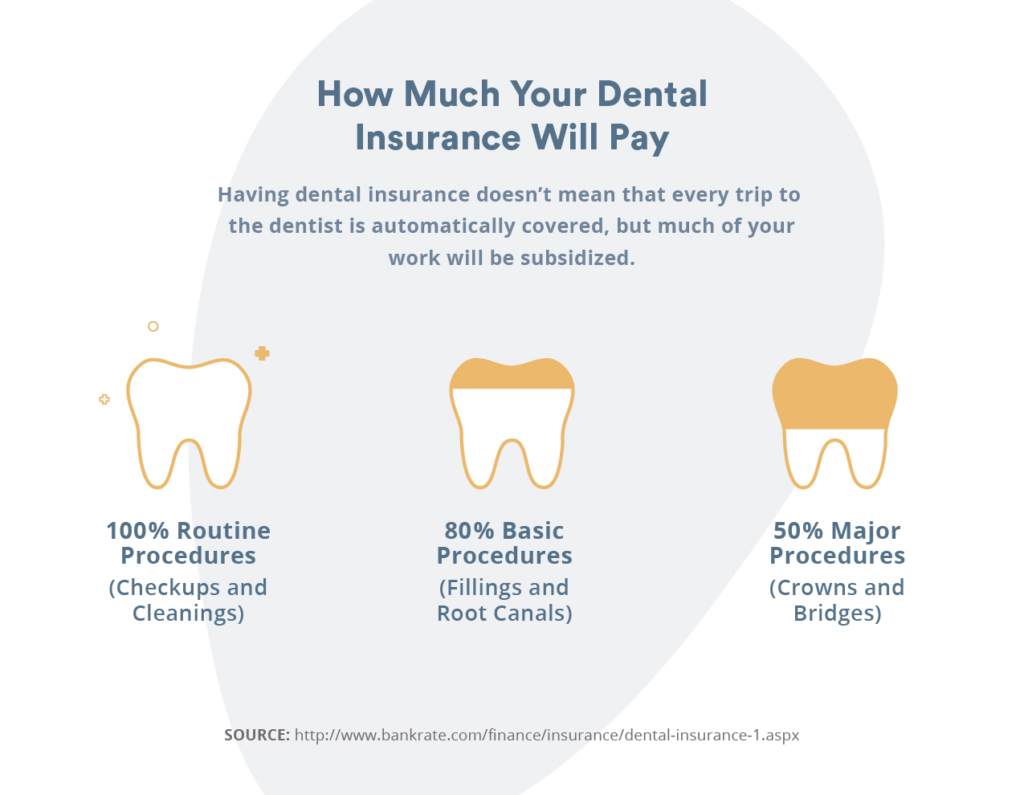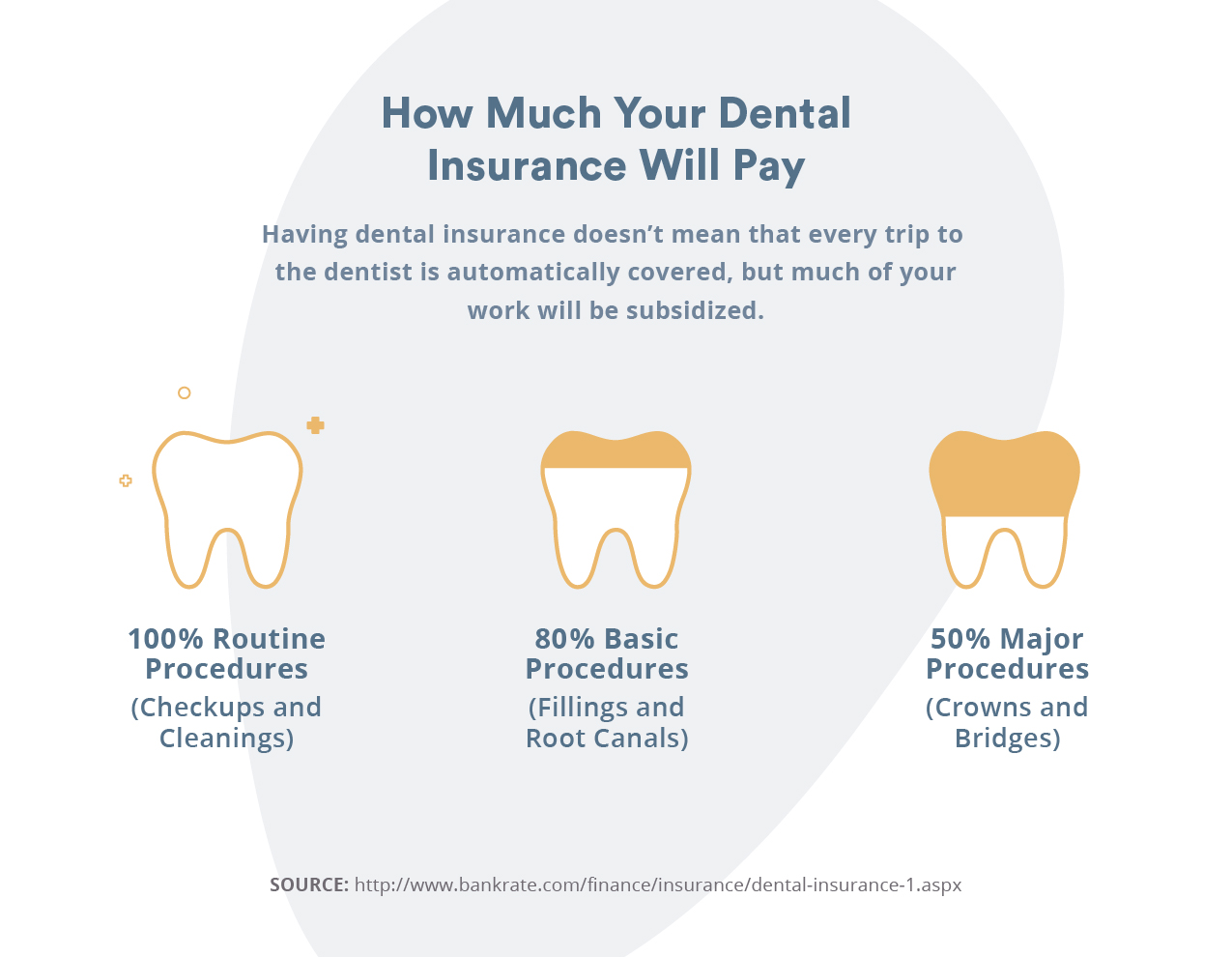 Step 4: Anticipate waiting periods
Anyone looking to get dental insurance can probably go for cleanings or x-rays immediately. But be prepared for waiting periods from six months up to a year for coverage on root canals or gum disease treatment.
Why? Insurance companies are businesses at the end of the day. Without these waiting periods, nothing would prevent people from signing up for coverage only for a month or two to get some badly-needed dental work and then ditching their coverage. 
Waiting periods don't necessarily mean more in-depth dental work can't be done right away, people just might have to pay out of pocket. Again, check your plan options for rules on waiting plans. 
If it seems like we're telling you to do a lot of reading, you got us. We are. But this will save you huge toothaches down the road. 
Step 5: Decide between group or individual coverage
The National Association of Dental Plans noted that as of late 2016, roughly 250 million Americans had dental coverage, falling into two types of plans:
Public plans like Medicaid, covering approximately 83.9 million people

Private and group plans, covering approximately 164.2 million people
How do you decide what to choose? Group plans generally are purchased through employers or groups like the AARP. If you're purchasing insurance all on your own, you'll likely select individual coverage.
How to Choose a Dental Insurance Plan
After following the steps above, it's time to select an insurance plan. Here's what to do at this point to ensure you get the coverage you need.
Get Clear on Your Coverage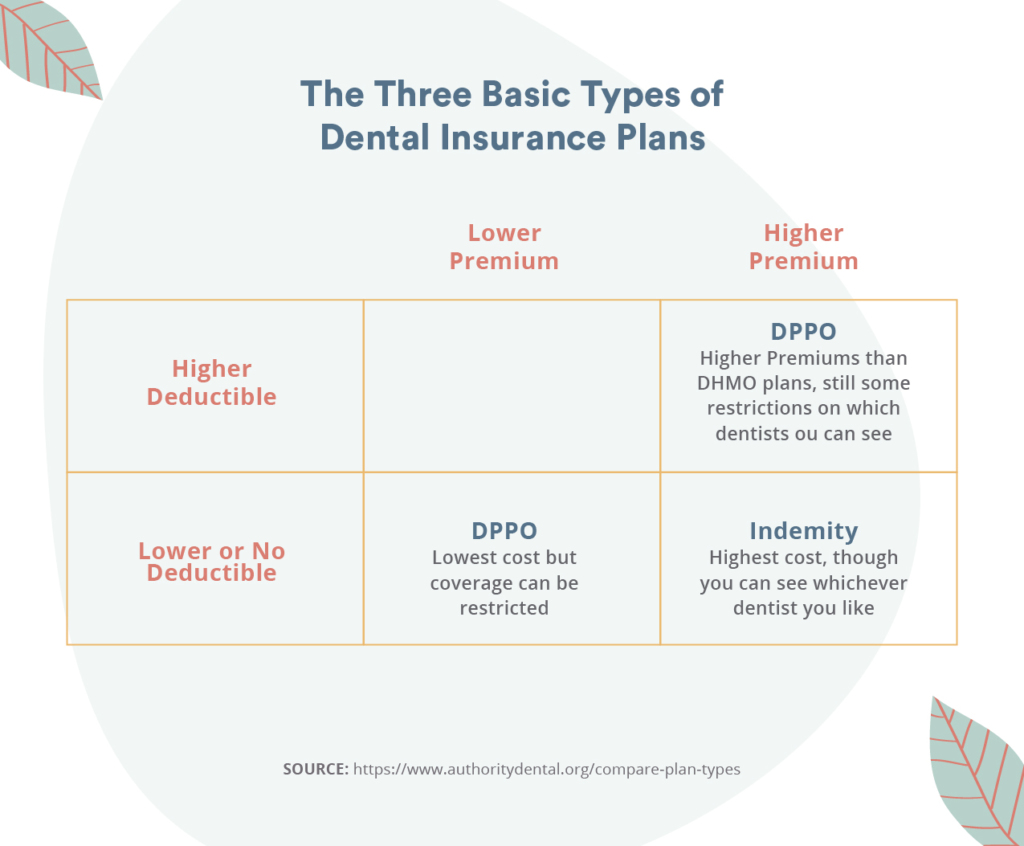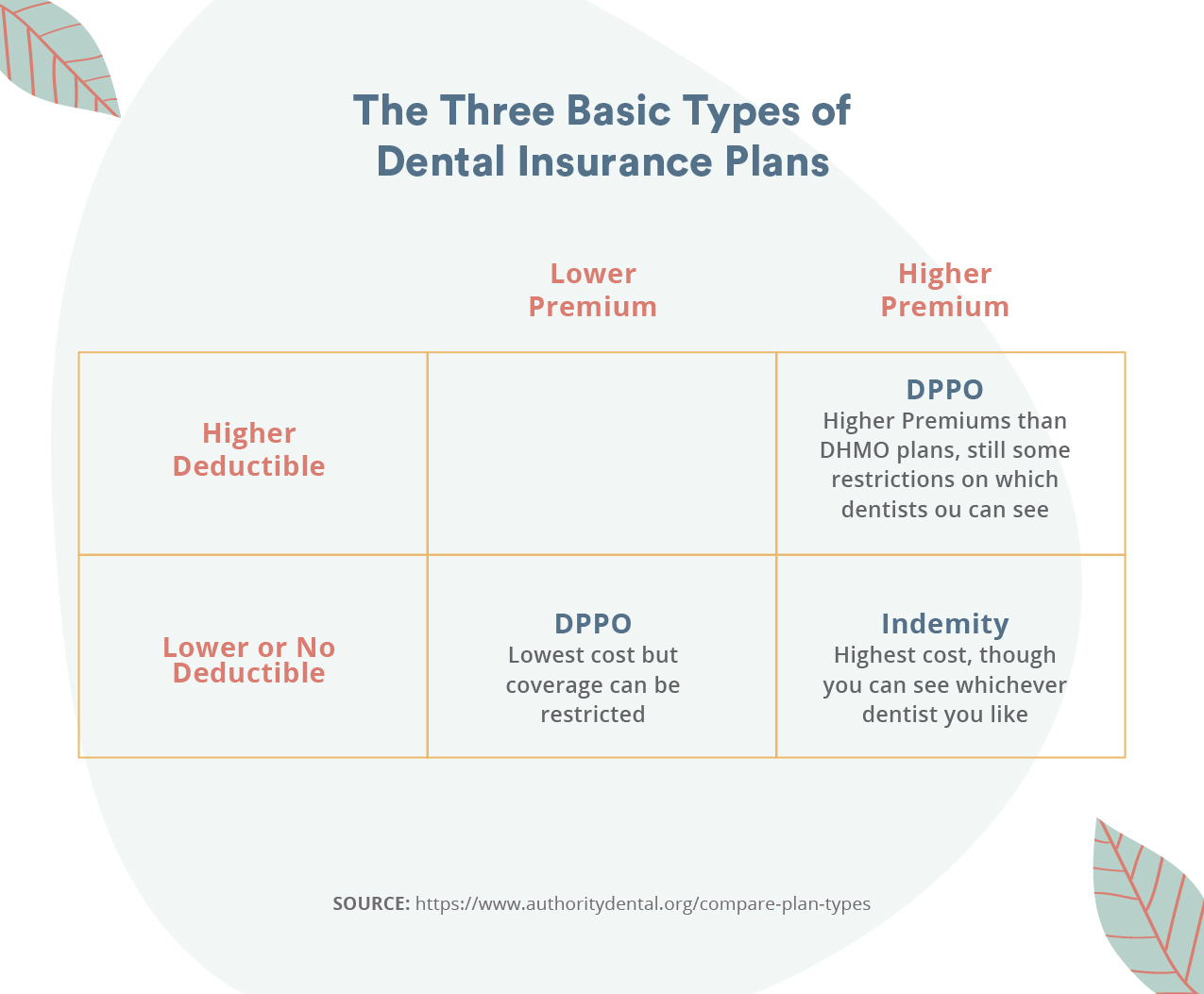 Dental insurance generally breaks down into three types of plans. Knowing which one is right for you can help maximize your dollars and ensure you aren't paying huge amounts for services.
Dental Health Maintenance Organizations

, or DHMOs, have lower premiums, higher deductibles, and restricted provider networks.
Dental Preferred Provider Organizations

, or DPPOs, have higher premiums, higher deductibles, and broader treatment networks.
Dental Indemnity Insurance

, which is becoming less common, has the highest premiums but allows people to go to any dentist they want.
Whichever you choose, you'll want to be clear what the plan you've selected exactly covers and how much of covered expenses are paid out. More information can typically be found online or the literature they send you. 
Yup, that's right. More reading. Find a comfy spot and dig into those insurance booklets. 
Know which dentists are in your network
Unless you opt for indemnity insurance, you'll be restricted on which dentists you can see.
While you aren't outright restricted from going to out-of-network dentists, this can lead to extra charges. If you're looking at a PPO or DHMO dental insurance plan, consult their online network list. Dental offices will also generally know which insurance plans they can accept. That said, choosing an in-network dentist shouldn't prevent people from seeking second opinions. 
Find a top rated dentist near you that takes your insurance.
Select your coverage level
Now you need to take a critical look at how much insurance you need.
A cheap plan of maybe a few hundred dollars a year with a couple of cleanings included will more or less pay for itself. Cleanings aren't relatively expensive and are even available at dental schools for cheap, so while it can be tempting to forgo dental insurance entirely, we wouldn't recommend it. For its relatively low cost and availability in times of emergency, dental insurance is worth the $20 or $30 monthly premium.
From there, you will want to decide if a PPO, DHMO, or indemnity plan is right for you and how much of a deductible you're comfortable paying.
Narrow down your choices
This is the due-diligence stage of getting dental insurance you'll actually use. Check out reviews online of potential insurers to make sure there's a good chance they'll payout on any claims. Also, check out the reviews for dentists in their networks. It might be worth selecting a slightly more expensive plan if it leads to better coverage and a better dentist.
Get dental insurance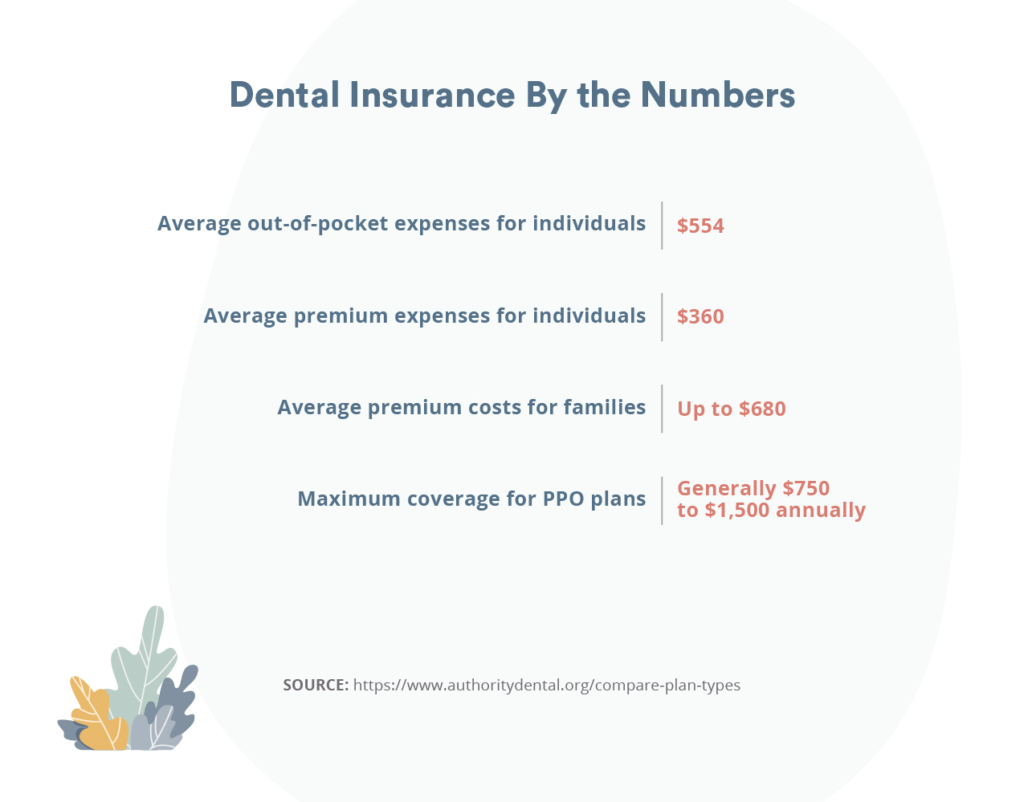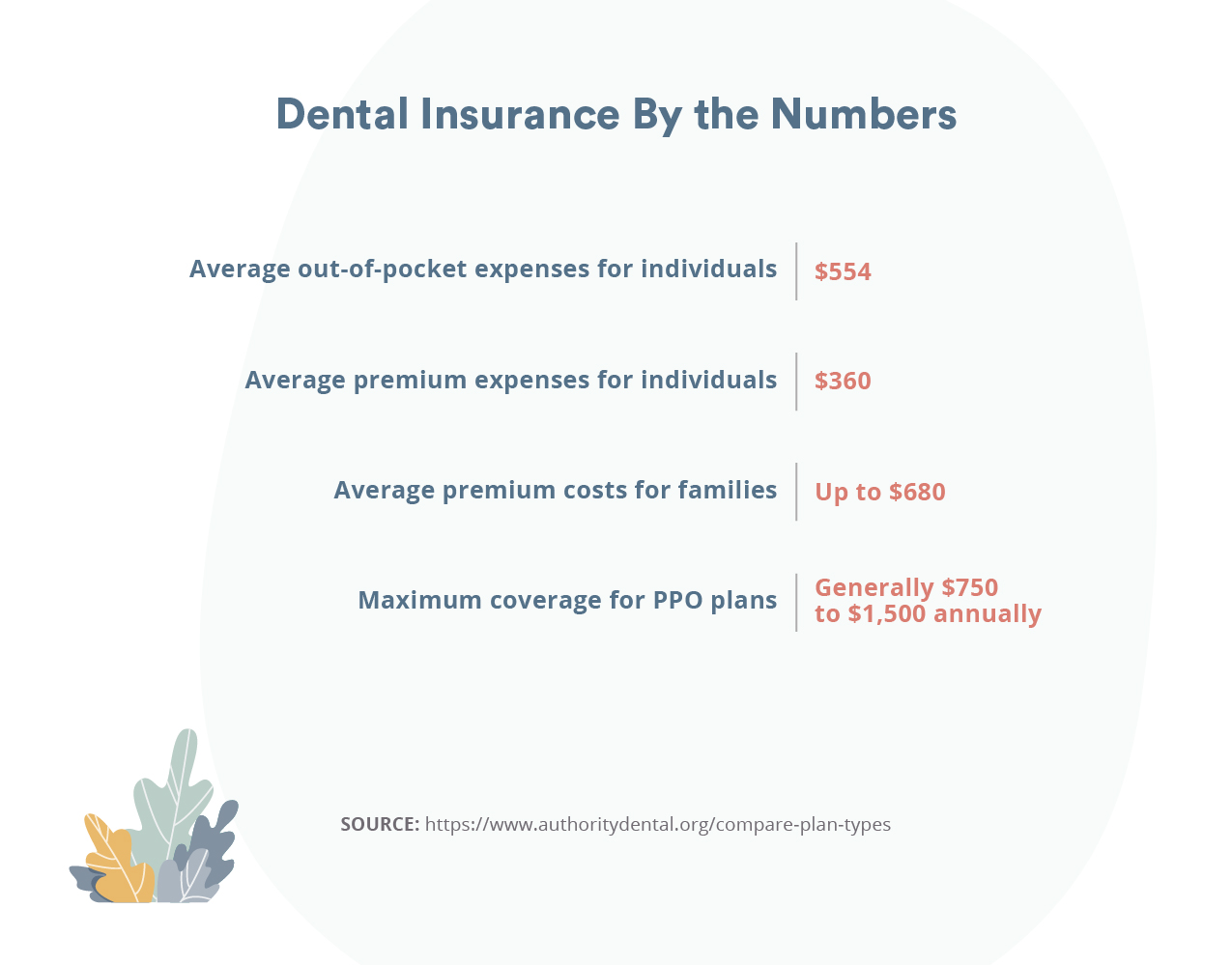 When you're ready to get dental insurance, the process is pretty easy and generally happens one of three ways:
Through a job

Through an insurance broker

On a dental website
Again, it's the work leading up to this stage that matters much more than the actual, simple transaction.
Five FAQs to consider when you get dental insurance
Confused? Need more information about the benefits of insurance? Here are some answers to a few common questions.
1. Is there a best dental insurance?
Not exactly.
Finding the best dental insurance depends on a range of factors, including a person's level of need and their economic situation.
For younger people with relatively strong teeth, a high-deductible plan that's good for occasional cleanings and emergency fillings or root canals might be the best dental insurance. This same plan, however, might cause serious financial hardship for people expecting to get a lot of use out of their dental insurance.
2. How do I get dental insurance?
Dental insurance can usually be purchased a few different ways. Many people become eligible for group dental insurance after an initial waiting period at a job typically after 60 or 90 days. Others decide to purchase private insurance through an insurance broker or by contacting a dental insurance company directly. You can also get dental insurance online straight through providers.
3. Does dental insurance have open enrolment like the ACA?
This depends in part on if a person is looking to purchase dental insurance alongside their ACA plan. If this is the case, the answer is yes, though a person isn't limited to purchasing dental insurance strictly during open enrolment periods. They can also purchase ACA dental insurance after a qualifying event, like the loss of a job.
Information on open enrolment periods can be found on Healthcare.gov or websites for state-based exchanges, such as Covered California.
4. How much will dental insurance cost me?
It can be difficult to calculate the true cost of insurance. While premiums can run for under $20 a month, that's only part of the cost.
Many insurance plans have deductibles that need to be met for the year before starting to cover costs. Other plans require certain work, such as root canals or gum-disease treatments, to be paid for partially (but substantially) out of pocket, often needing you to cover at least 50 percent.
Premium expenses can run about $360 a year for individuals and up to $680 annually for families.
5. Can I use a policy tomorrow that I purchase today?
Yes, but avoid the temptation to pull a fast one. The rules of insurance are clear and typically long for a reason.
As noted earlier, many insurance plans have waiting periods on procedures like root canals, to help prevent people from signing up for insurance right before having a bunch of dental work done and then quickly canceling.
Dental insurance isn't a video streaming service or gym membership. Attempting to treat it like one is likely to fail — don't try it. 
Find a top rated dentist near you that takes your insurance.
Article updated as of June 2021