Reading Time:
8
minutes

Dental insurance can be confusing. We know you've got questions. We've got answers. Let's break it down for you.
Insurance basics: Common questions 
How does dental insurance work?
Like any other insurance, you have to pay monthly premiums based on the company, your area of residence and your insurance plan. Public health insurance usually doesn't cover much (if any) dental work, so the majority is covered by private insurance. 
Dental insurance often depends on the dentists you want and how much you can pay. If you've got a dentist already and they're part of an insurance network, then you can go for one of their plans. When your dentist is not in-network, you'll still be covered by the insurance, although you'll pay more out of pocket. If you don't have a dentist, you can visit any of the dentists in the network and still be covered. 
Most dental insurance providers have a waiting period before any dental work can be done, typically between six months and a year. Most policies do not cover cosmetic care procedures since they aren't a medical necessity. 
Need more answers? Check out our full guide here.
How much does dental insurance cost?
For many people, dental insurance costs about $50 per month, though it can cost as low as $15 per month. The cost usually depends on the level of coverage you need and the state you live in. 
Most plans have an annual limit of coverage you can get. For most dental insurance plans, the limit is usually between $1000 and $2000. Once you reach your maximum yearly limit, dental insurance cuts all coverage. You'll have to pay for any other dental work out of pocket.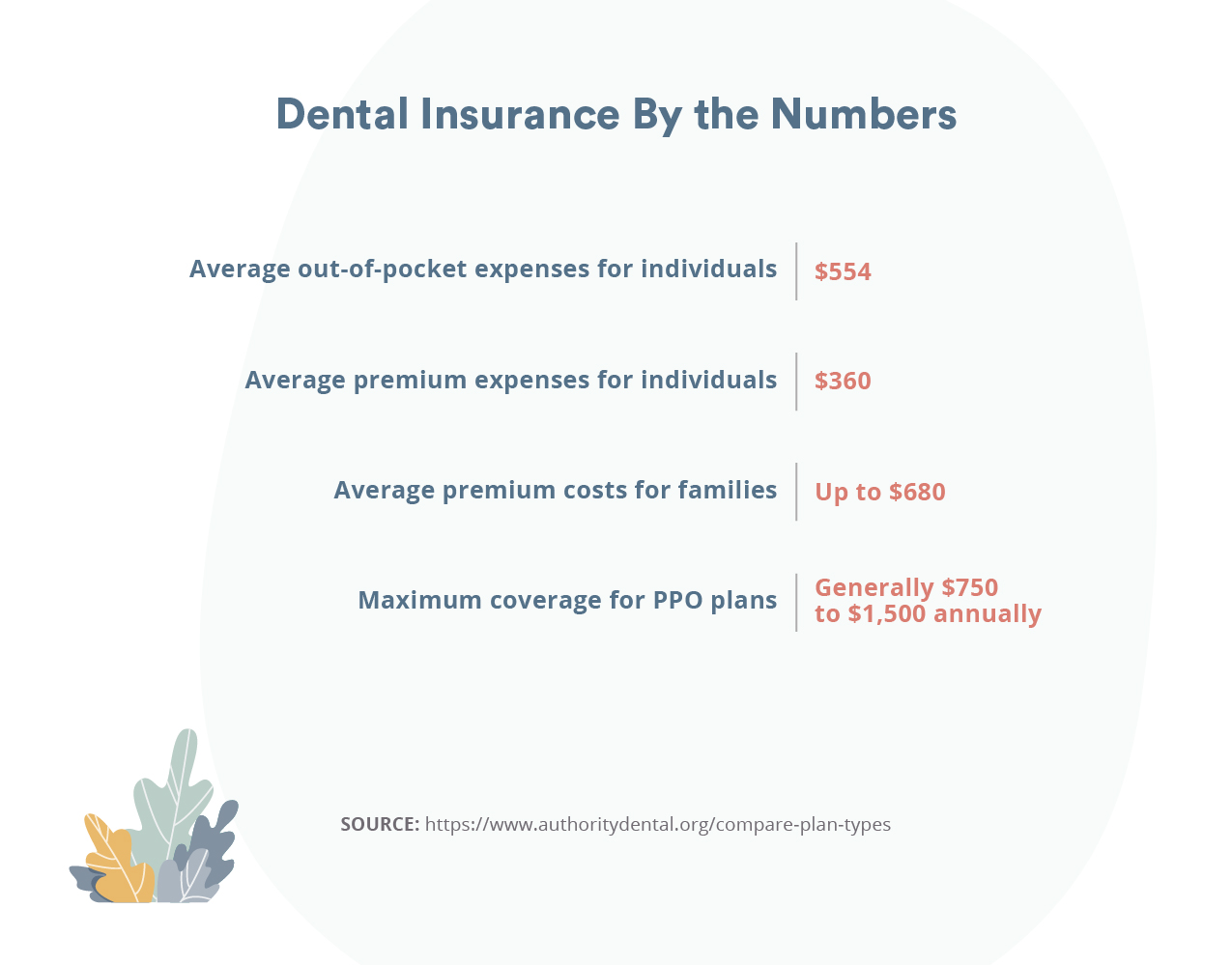 Unless you've got major procedures scheduled like a root canal or a crown, you're unlikely to use all your annual coverage. In fact, only about 4% of Americans use up their maximum benefits. 
Why should I buy dental insurance? 
Dental care can be pretty expensive, especially when paid out of pocket. But dental care is absolutely essential to your health, so you can't skip out on it. 
Most dental insurance plans will cover a big part of your procedures, making dental care affordable for both individuals and families. Your bi-annual visit to the dentist will be paid for in full by your provider – a benefit you can enjoy right away. 
Having insurance is also an excellent incentive to make more preventive-care visits even if you have healthy teeth. Less money is spent on preventive care and saves a lot of money that would be spent on costlier procedures in the future. 
Who needs dental insurance?
Dental insurance is for everyone unless you can afford to pay a hefty bill when you need to get dental care. Even though you may not exhaust your annual limit, you're better off with insurance. If you're elderly or you feel like you're at a greater risk of getting dental problems, then insurance is something for you. 
What is dental indemnity insurance?
Dental indemnity insurance is a type of insurance that pays for your care after you've seen the dentist and paid upfront. In this case, you visit the dentist first, pay the cost, and then submit your claim to your provider. Your insurer will then reimburse you for part of the fee. 
Find a top rated dentist near you that takes your insurance.
This plan is best if you have a preferred dentist or you want a wide variety of providers. The annual coverage limit may be higher, but the monthly premiums also tend to be higher than other plans. 
What is a fee schedule plan?
A fee schedule is a list of prices that every dentist has that shows how much they charge for all procedures they offer. The list also includes how much your dental insurance will pay. The schedule varies depending on what the insurance provider considers allowable and the dentist's rates. 
The fee schedule plan is often controlled by the "usual, customary and reasonable" (UCR) price that insurance companies wish to set for a procedure. UCR is usually around the average of what other providers charge within the area. 
Types of Coverage
What is covered by Medicaid?
Medicaid covers dental services for all individuals under 21 years enrolled in the program. This is part of a set of benefits referred to as the "early and periodic screening, diagnostic and treatment" (EPSDT) benefit. The dental services covered include preventive care as well as diagnosis and treatment of dental conditions.
The states determine the dental benefits that adults get under Medicaid. Most states only provide minimal emergency dental care, with very few offering comprehensive coverage. 
Refer someone to book a dentist with Opencare and you'll both get $50.
What is covered by medicare?
Like Medicaid, Medicare does not cover dental procedures. However, it offers limited care required to maintain general health, or is a part of another medical care regimen under Medicare. For example, Medicare may cover the additional dental care after you undergo jaw surgery. 
The insurance does not cover any follow-up dental care after the initial treatment has been done. 
What's the best dental insurance in the United States? 
There are plenty of dental insurance providers in the country, and what may be good for you doesn't necessarily work for everyone else. Some of the dental insurance providers include:
Cigna

UnitedHealthOne

Humana

Delta Dental

Ameritas
Before choosing a dental insurance provider, it's best to compare different insurance plans to choose the one best suited for your needs and budget. 
What procedures are usually covered by dental insurance?
Most insurance plans include some preventive care coverage in the form of two checkups and cleaning in a year. Other dental procedures that may be covered under insurance include:
Fillings

Crowns, implants and bridges

Root canals

Emergency procedures, eg oral surgery

X-rays

Tooth extractions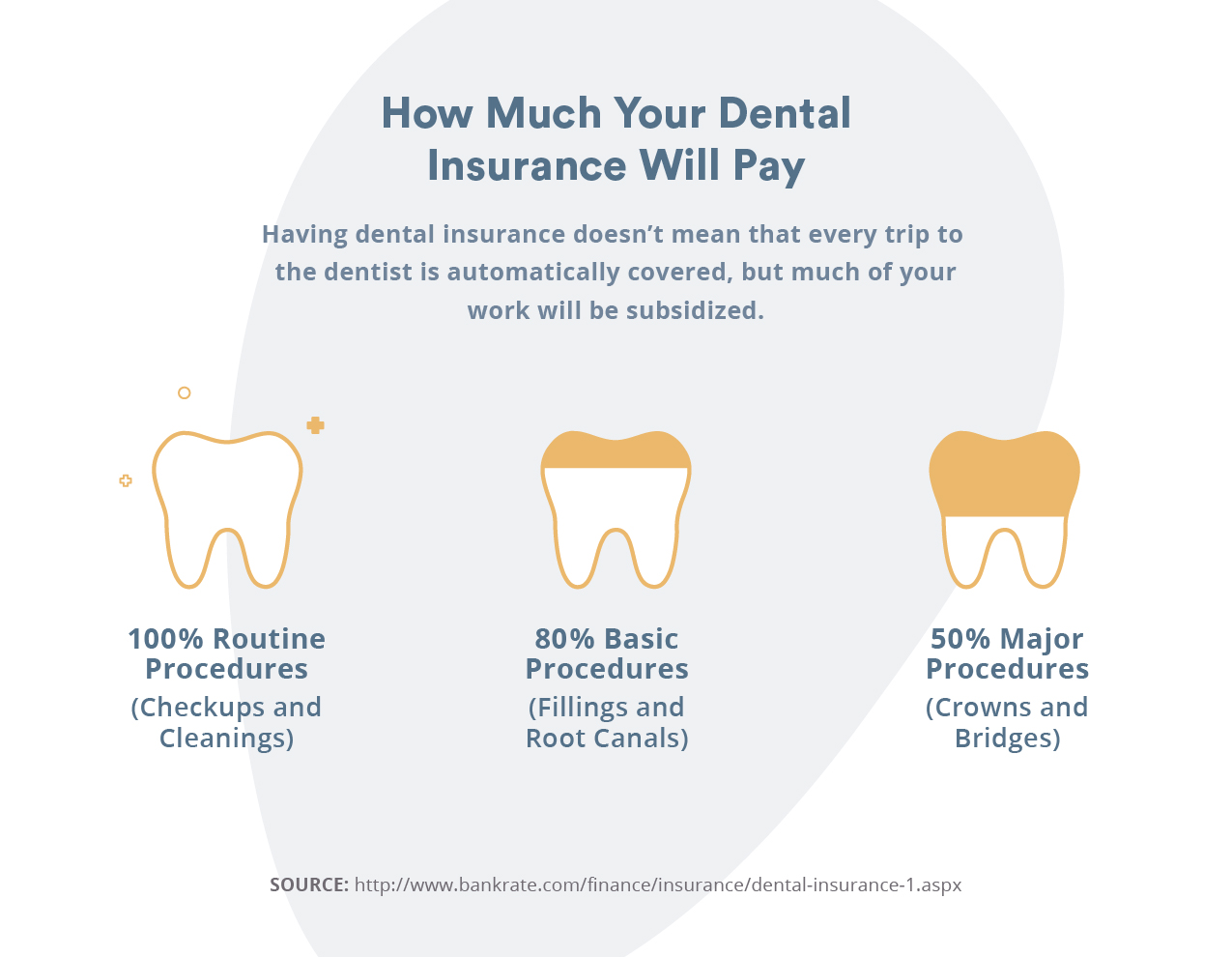 The level to which these services are offered will depend on your plan. Preventive care is often fully covered, while other major procedures like fillings may require additional out-of-pocket funds. 
What does "in-network" mean?
In-network dentists are part of a pool of providers who work with insurance companies to offer dental services at discounted prices. Choosing an in-network dentist ensures that your insurance always covers you and that you're always paying less for your services.
You'll also benefit from more coverage and fewer out-of-pocket fees every time you get dental care. 
You'll have to contend with fewer dentists available for your choosing, though. The dentists in the network may not be perfect for your needs sometimes as well. 
Sign up for our newsletter.
Just let us know a bit about yourself.
What is PPO? What is DHMO?
A preferred provider organization (PPO) is a type of dental care plan whereby customers choose a dentist from a network of preferred dental providers. 
These providers usually offer their prices at reduced rates within a maximum annual limit. Some PPOs allow you to choose a dentist out-of-network and may even offer you lower rates when you've exhausted your yearly coverage. 
Dental HMO is exactly like PPO insurance, only that the dentists offer their services at pre-determined prices. The participating dentists are paid a fixed monthly fee. DHMO is often used by businesses to cover its employees but can be used for individuals as well. An advantage of DHMOs is they often have lower premiums compared to other dental insurance plans.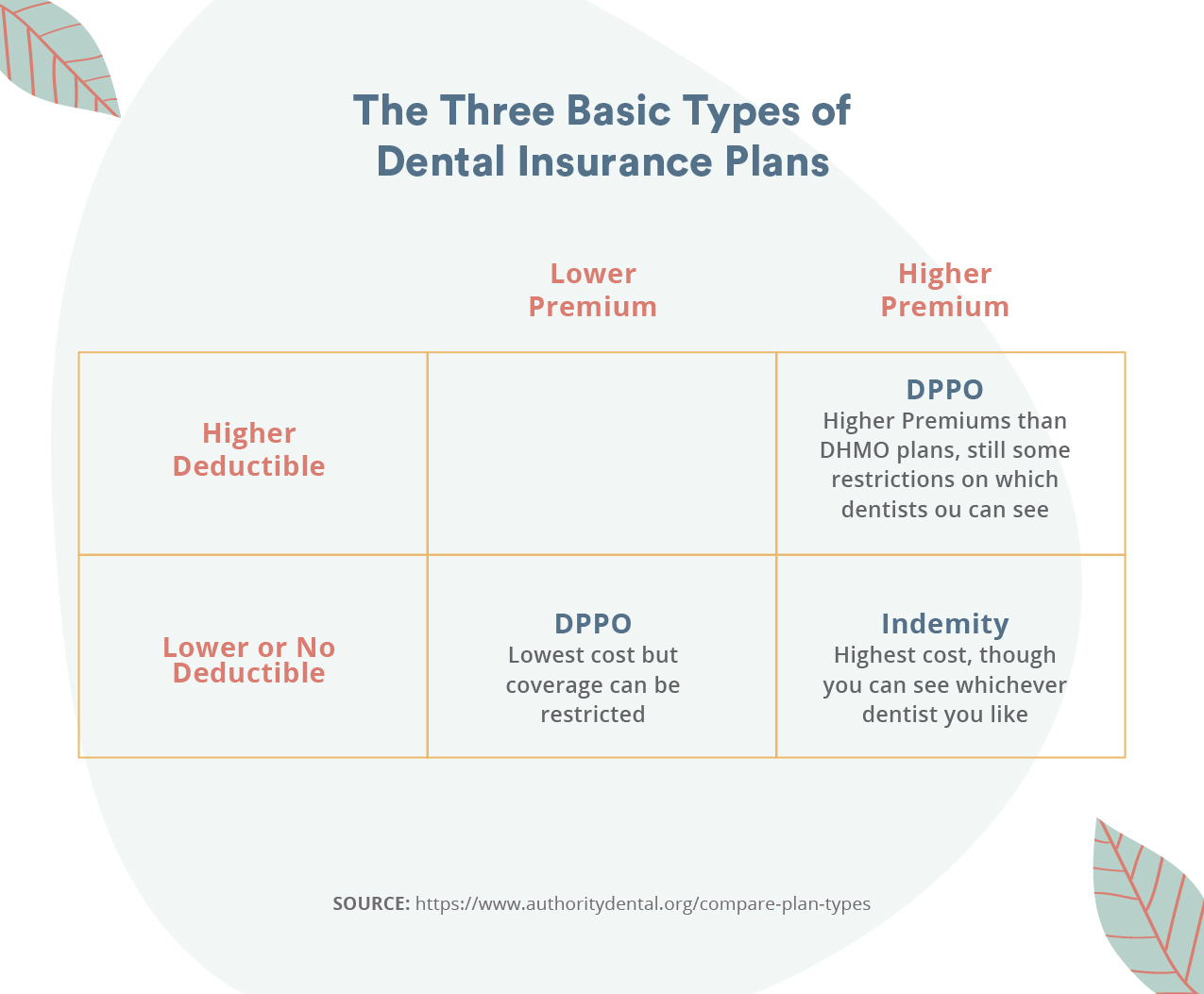 How do I get the most out of my benefits?
To get the most out of your insurance, you need to determine which plan is the right one for your needs. Once you have a plan that suits you, you'll get the best coverage when you remain in-network, whether it's an HMO or a PPO. If you go out of network, you'll have to pay more out-of-pocket. You can also work with your dentist to schedule your dental procedures so that your visits do not exceed the annual limit. 
Will all providers accept my insurance? 
Dentists within your insurance network will accept the coverage if the services offered are included in the plan. However, if the dentist is not in-network, they may or may not accept your insurance cover. If they do, they will be listed as out-of-network to your insurer, and you will have to top up the bill in most cases. 
How do I find a dentist who takes my insurance plan? 
Your insurance provider will typically have a list of dentists within their network that you can check out. You can also call the dental office to find out which insurance companies they work with, or you can use Opencare to find a dentist who takes your insurance.
What is covered by dental insurance?
How do I know how much dental treatments will cost me?
When setting up your dental appointment, you can ask your dentist for an estimate of how much the procedures will cost. Some insurers will encourage you to send a treatment proposal before beginning the dental treatments. This proposal will help your insurer determine whether the services are covered, the maximum coverage you can get and whether you'll need to top up out of pocket. 
How do I know what my dental insurance covers? 
Your office can send your insurance a pre-estimate/predetermination request to find out what the insurance will cover and what it will not. The pre-estimate will also let you know how much they'll cover so you can plan the dental visit. If you have anything other than major, always recommend getting a pre-estimate. To do that, call the office or send the insurance company a pre-estimate or predetermination after you book your dentist appointment. However, a pre-estimate is not a guarantee that the insurance will pay for everything in the pre-estimate.
The office took my insurance; why do I still have an amount to pay?
A number of reasons may be responsible for this. First, you may have exhausted your annual limit. You may have also selected a dentist that's out of network, or the services may have been denied(insurance determines the service not necessary).If your treatment has been denied, you can follow up with the insurance company yourself and dispute the treatment that was not covered. 
Why didn't I get my free cleaning? 
When we say insurance covers two cleanings a year, it's not totally free. You have an annual maximum (average $1000-1500 USD per year), but once you've used that maximum, your insurance will not pay for any other services even if you're eligible for them. However, some plans will specifically say diagnostic and preventive care aren't calculated as part of the maximum. In these cases, you would still have those two free cleanings. 
How do I check the balance of my annual dental insurance maximum?
Do you know how much your maximum annual insurance is? If you do, you can calculate the difference between what you've already spent and that annual limit. To get accurate figures though, you can always reach out to your insurance provider to check how much you've used up and how much you're left with for the year. 
What if my dentist referred me to a specialist; is that covered?
Some specialist services may be included in your plan. Whether you'll be covered or not depends on your insurer, your dental care plan and the circumstances of referral. If you've exceeded your annual limits, however, you may not be covered by your insurance. You might also have to pay more if the specialist is not in-network. You can use Opencare to find plenty of dentists and specialists near you that are covered by insurance.
Find a top rated dentist near you that takes your insurance.