Reading Time:
6
minutes
It's always better to be proactive than reactive when it comes to dental care. While this applies to flossing and brushing, this mindset is also relevant to use your dental benefits. According to the National Association of Dental Plans, around 77% of Americans have dental benefits. However, most people don't optimize dental benefits for the most savings each year.
What are Dental Benefit Plans? 
Dental benefit plans are commonly provided by employers to help pay for dental care. Dental benefits are technically different from dental insurance, which are meant to absorb more risk than a benefits plan. Keep in mind "dental benefits" and "dental insurance" are not the same despite the terms often getting mixed up.
A 2019 survey reported that around 47% of adults are part of employer-sponsored dental insurance plans, but many don't use the benefit. Under half of these people use their dental insurance and only 4.2% reach the annual maximum.
If you've got it, use it! Learn your plan inside and out to help. Know your premium, deductible, annual maximum, and if your plan follows a calendar year. These details are critical if you want to optimize your dental benefits.
Find a top rated dentist near you that takes your insurance.
Learn the Terms
Let's have a quick review of what you spend money on with your dental benefits and what each of the common terms mean. This information will help you understand how much money you spend on dental care and how much money potentially goes to waste if you don't use your benefits.
Premiums
The price you pay for dental insurance (or dental benefits) each month. You pay this amount whether you get any dental treatments done or not. Your premium almost always includes free preventative care, such as two dental cleanings per year.
Deductible
The deductible is the amount of money you pay out of pocket to the dentist before your insurance covers any of your services. On average, deductibles are around $50 per year to $100 per year but can vary substantially by plan. Deductibles start over every year.
Annual Maximum
A yearly maximum is the highest amount of money your plan will cover over the course of one full year. The average annual maximum is around $1,000 to $1,500, but varies by plan. The maximum typically renews at the first of the year and unused benefits don't roll over from the previous year.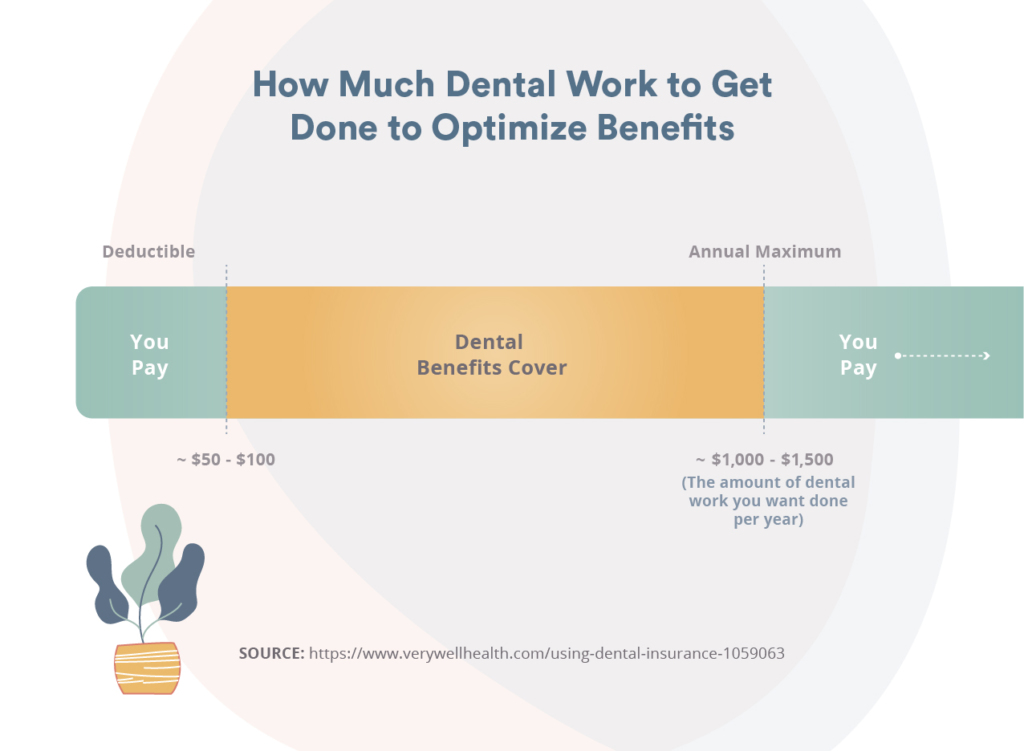 Coinsurance
Some plans may include coinsurance. This is the percentage of your charges you are responsible to pay. For example, some plans may pay 60% of a procedure while you'll need to pay the remaining 40%.
Flexible Spending Accounts (FSA)
Your flexible spending account is set up through your employer. You decide how much money you want to put in your account and a portion of it is deducted from every paycheck pre-tax. They work similarly to debit cards with how you use your FSA card to pay for various dental expenses.
Generally, FSAs can be used to cover services such as cleanings, benefit plan copays, dentures, and more. An FSA may also cover certain dental products available at local drug stores. Products like toothache relievers, denture cleaners, and denture adhesives are more likely to be covered than basic items, such as toothpaste or floss. This is a crucial tip to optimize your dental benefits.
In-network & Out-of-network
In-network dentists have specific pre-negotiated rate agreements with dental insurance companies. Although out-of-network dentists will often still accept your insurance, they don't have set rate agreements. It's almost always cheaper to see an in-network dentist. If you don't, you risk paying more and it can take a bigger chunk out of your annual maximum or the money in a flexible spending account.
Use Your Dental Benefits Before the End of the Year
In almost all situations, dental benefits are "use it or lose it." If you don't reach your annual maximum, or use all of the money in your flexible spending account within a year, you typically forfeit all of that money. These are some of the top reasons to use your dental benefits before the year's end. Optimize your dental benefits by using them before the year ends.
Flexible Spending Accounts Have Deadlines
Most people have an FSA with a December 31 deadline to use funds, though occasionally, some will end at a different time of the year. Some employers allow a grace period of up to two and a half months to use your FSA money, but not all provide this option. An employer may also allow you to carry over a maximum of $500 to use the following year, but again, this isn't the norm. Check with your FSA administrator or your employer to learn your account details.
When you set up these accounts, it's ideal to carefully calculate what you expect to spend within a year and only add that amount. Learn exactly what services and products are covered. It's unlikely you are able to use these funds for any cosmetic procedures, such as getting your teeth whitened or veneers.
Discuss with your doctor in the summer or fall, during a regular appointment, if there are any procedures your teeth need. No matter what time of the year your dentist informs you that you need a dental service, if you have remaining money in your FSA, try to get it done before the end of the year (when your deadline typically runs out).
Worry-free insurance verification
Opencare takes the guesswork and effort out of insurance verification.
Dental Benefits Run Out
Standard dental benefits have a deadline at the end of each year as well. When you have a dental plan, you pay a premium for it. That premium is wasted if you never visit the dentist within a calendar year. 
Don't forget, your premium usually completely covers preventative care visits twice a year. Some people avoid getting dental work done towards the end of the year because they are close to the annual maximum and don't want to exceed it (at which point you pay entirely out of your own pocket).
This can be a valid concern, but most dentists will work with you to see if it's possible to split your work up in two phases. In this case, one phase is before the end of the year and the other step is at the beginning of the next year when your annual maximum renews. Not all dental work is possible to be split into two phases, but it's worth checking with your dentist. 
The closer you get to your annual maximum, the more money you've saved that year. If you have a spouse on your dental plan, make sure they make use of the funds as well. Get the most out of your dental benefits.
Fees May Increase at the Start of the Year
That root canal or those crowns you need may become more expensive in the future. It's common for dentists to increase their rates at the beginning of the year to account for an increased cost of living and new equipment needs. Your dental plan may also change to have a higher copay. Prices are significantly more likely to increase than they are to decrease. Get necessary dental work done now before rates and copays have the opportunity to change.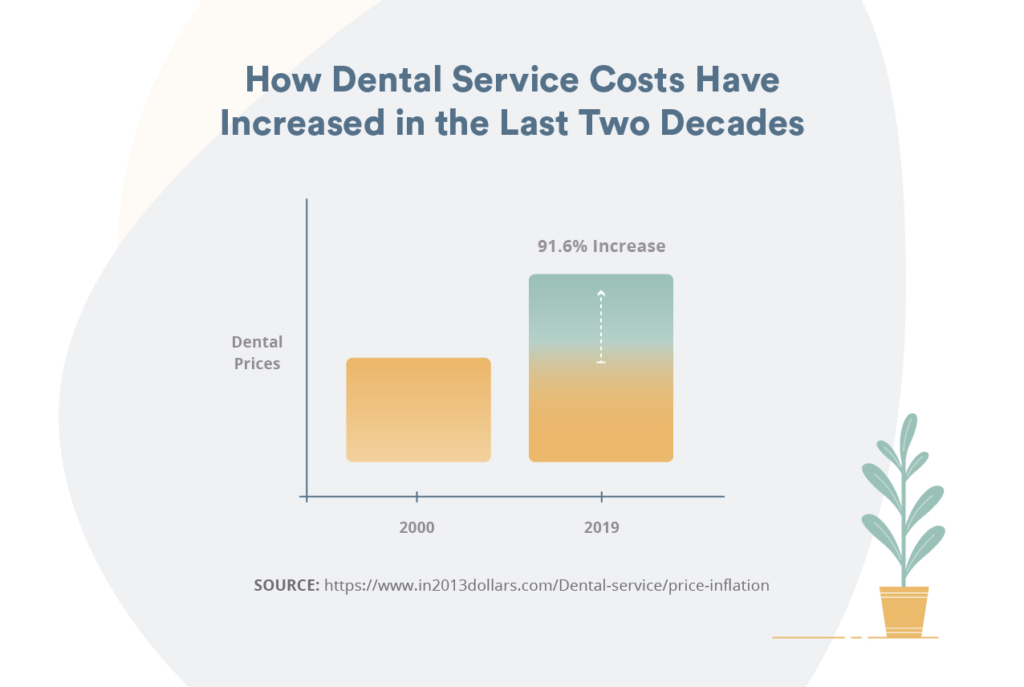 Catch Dental Problems Before They Worsen
Preventative visits, such as cleanings, are essential to keep your teeth healthy. Additionally, these visits provide insights into any issues with your oral health. X-rays and a thorough check of your mouth can reveal any dental work you need done.
If a relatively small problem is discovered during a visit, such as needing a cavity filled, it can be tempting to wait until the following year to remedy the issue. But when you delay dental treatment, you risk requiring more extensive and expensive treatment later on. Cavities can turn into painful and pricey root canals. 
Catch dental problems while they're small and easy to fix. Dentists sometimes also notice the first signs of health issues that may necessitate a visit to the doctor.
Remember, most people have similar dental plans to you. Many people who haven't reached their annual maximum will be trying to get appointments at the end of the year. Dentists often take time off during the holidays, so there may be fewer time slots available.
Those who have already reached their maximum, are strategically breaking their procedures up into two phases, or just signed onto new dental plans will be setting appointments for January. You want to make your appointment before all of the spots are filled up, especially if you know you have work that needs to be done. Letting a dental problem fester until February isn't good for your oral health or your wallet.
Optimize your dental benefits to not only are you saving the most money, but to also give yourself an incentive to stay on top of your oral health. You want to get as close as possible to your annual maximum and the same goes for any flexible spending account you may have. Dental benefits aren't meant to be used only for emergencies, but to be used mainly for prevention. Keep your mouth and wallet happy by always using up your dental benefits before the end of the year.
Find a top rated dentist near you that takes your insurance.