Reading Time:
7
minutes
Every dentist wants to build a good reputation, cultivate a reliable stream of referrals, and generate repeat business. All these goals are attainable but they require time and excellent quality of dental service. Dental reviews are a great way to jumpstart this process.
Positive customer reviews available on websites like Yelp, Facebook, and Google, offer dentists a powerful marketing tool. Leveraged wisely, dental reviews can act as virtual referrals, boosting conversion rates, and increasing revenue. This article illustrates the value of patient reviews, shows how reviews specifically help dentists, and offers some best practices on how to get more reviews.
The Benefits of Customer Reviews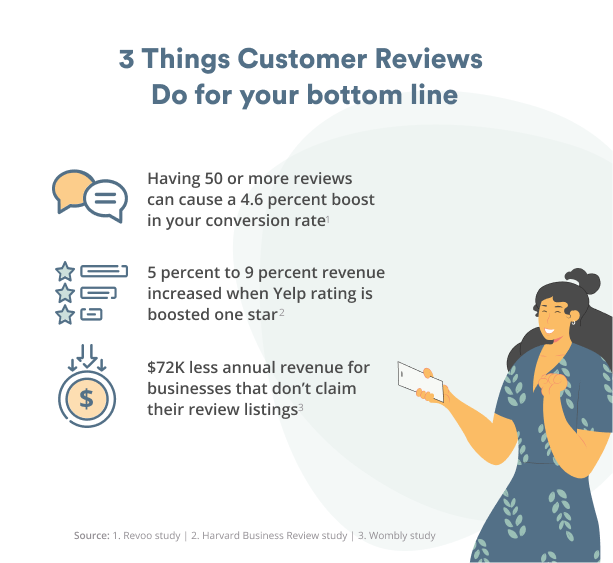 Nearly any business can get a boost from positive customer reviews. Here are some of the most well-known benefits.
Worry-free insurance verification
Opencare takes the guesswork and effort out of insurance verification.
Even the biggest sites are free to use
There are plenty of review sites out there that are easy and free to use. Anytime someone searches in Google, which is about 3.5 billion times every day to be specific, reviews of businesses and their star ratings are prominent, even if the user selects the map feature. Facebook reviews are a great place to catch the eye of your patient's family and friends and Yelp has been influencing businesses (in positive and sometimes negative ways) since the early 2000s.
A survey of 1,800 consumers quantified the popularity of the three most popular review sites mentioned above, showing that Google ranked as the most popular review site, with 41 percent of respondents citing it as their favorite. Facebook was the second pick thanks to 26 percent of respondents, while 22 percent of respondents helped Yelp rank third.
On each of these websites, reviews will often be displayed regardless of whether a business has paid for the listing. And once reviews are posted, they're going to be seen by many. One study found that 88 percent of consumers utilize reviews when determining the quality of businesses in their area. 
Collect 99% of your claims
We settle your claims, so you don't settle for less.
To make sure your practice can get the most from all posted dental reviews, make sure to claim them. Look for prompts like "Own this business?" to verify your account. You might wonder if verification is worth it, but a recent study by Wombly noted that businesses that failed to claim their listings had, on average, $72,000 less in revenue annually.
Reviews are part of the basic search results
With the ability to search for businesses right on our smartphones or wearable tech, the age of looking up listings without context is over. Now we get the address, the location with the ability to get directions, as well as a steady stream of star ratings and reviews. And all this is available without needing to visit the business' website. 
Increasingly, potential patients are making heavy use of customer reviews in their decisions — and this applies to more types of businesses than restaurants and shoe stores. A 2017 study showed 63 percent of people use review sites when considering which practice to select for cosmetic dentistry procedures. 
Strengthen your Search Engine Optimization (SEO)
If you want users to be more likely to see your business pop up when they're using a search engine, Search Engine Optimization, or SEO for short, is a term you need to know. 
Over two hundred factors are known to impact SEO and customer reviews are a big factor alone. This is due to Google taking increasing steps in recent years to localize search results, with a 2017 study by Local SEO Guide finding that reviews helped with keyword relevancy and engagement for businesses, two critical SEO factors.
"If you aren't focusing on a review program and working on testing how to get keywords, cities etc in reviews you are gonna be far behind," the study noted.
Higher conversion rates
Of course, good SEO only gets customers to a website. Converting those users into potential patients, or conversion, is crucial. For this, you'll need to get a potential patient to pick up the phone or fill out an email contact form. Having plenty of positive dental reviews can help persuade someone visiting your website to take that next step, with a study by Revoo finding "50 or more reviews per product can mean a 4.6 percent increase in conversion rates."
Reviews and stars = increased revenue
At the end of the day, perhaps the key thing to know about customer reviews is that they're known to drive sales. One study in the Harvard Business Review found that each star on a Yelp review "translated to anywhere from a 5 percent to 9 percent effect on revenues." That swing can be enough to take out an unlucky business.
How Dental Reviews Help Dentists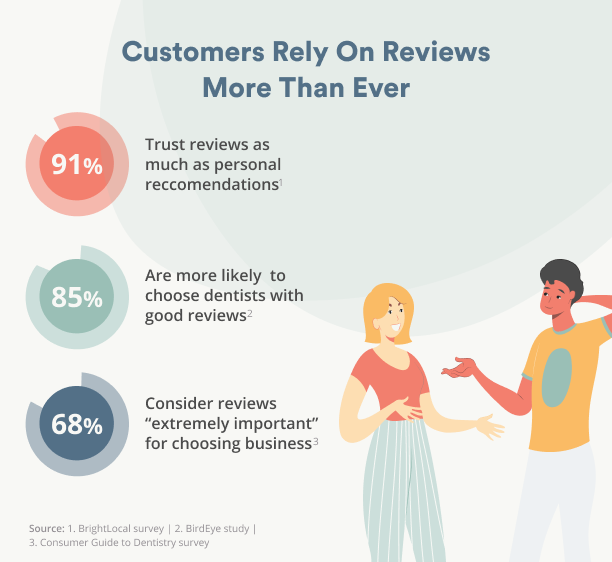 Reviews matter to any business. That said, they are especially important to dentists.
Patients love reviews
The average patient is extremely likely to consult reviews before making an appointment with a new dentist.
A survey in the Consumer Guide to Dentistry showed that 68 percent of respondents pegged reviews as being "extremely important, while an additional 30 percent noted they were 'somewhat important' to the process."
Another study demonstrated that 85 percent of customers were more likely to choose dentists with higher reviews. For this reason, it's wise for dentists to treat any patient as a potential reviewer, always making sure to provide expert cleaning, ethical billing, and professional service.
The power to increase trust
A referral is a gold standard for marketing, as people generally trust their friends and family members much more than they trust a billboard or radio ad. But dental reviews might be right up there with referrals these days for what they inspire in those that read them.
A BrightLocal survey noted that 91 percent of respondents aged 18 to 34 trusted reviews as much as personal recommendations. Survey respondents were also likely to read an average of 10 reviews before deciding they could trust a business.
With dentists, the stakes for building trust are even higher, with some unethical practitioners giving the industry a bad name. A list of positive dental reviews online can help top dentists distinguish themselves.
Create strong connections with patients
One of the best things about the internet? It helps make people comfortable to say things they might not say in person. This is especially beneficial for dentists, whose patients might be nervous and quiet during appointments. 
But quiet doesn't mean they're having a bad experience. From the comfort of their laptop or smartphone, this same person might open up and leave a glowing review, giving dentists a chance to connect by responding with a friendly thank you. 
Identify opportunities for improvement
Let's face it, no business is perfect. Even the best dental practice can find little ways to improve the patient's experience.  The sooner these things are pointed out in dental reviews, the sooner they can be corrected.
Grow your dental practice
Opencare is the only risk-free patient acquisition solution for dentists.
Keep an eye on your review sites for negative comments or helpful feedback and examine what has been mentioned. Is it accurate? Could your team work together to make some improvements? Implement the changes and respond to the review as soon as you can. Your response is a great opportunity to thank them for their feedback and let them know you're either working on a fix or have already implemented a change. 
Tempt patients to give your practice a try
It's sometimes difficult to get dental patients to try a new practice, as once they find a decent dentist, they can be hesitant to switch. Good reviews show patients that better options might be out there than their current selection. But what if you only have a few reviews? Or none at all? Find out how to grow your review game below.
5 Best Practices to Get More Dental Reviews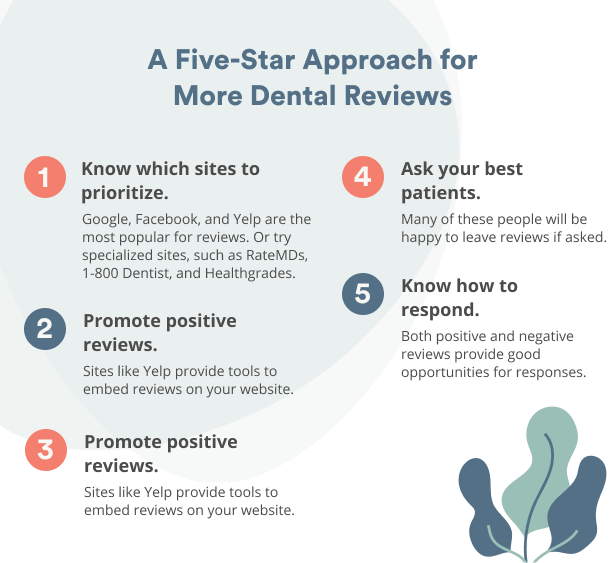 For dentists looking for ways to get more positive patient reviews, here are five best practices that can yield results.
1. Find dental-specific review sites
Google, Facebook, and Yelp aren't the only sites that matter for dentists. Some dentist-specific sites to monitor reviews at include:
It's wise to periodically check for more of these sites. Simply Google "dentist reviews" to find locations where reviews are grouped and stay up to date on current sites. 
2. Seek out your best patients for reviews first
When deciding who to solicit for reviews start with your best patients. Maybe it's the ones who've been coming to your business the longest, or patients who always have nice things to say at the end of their appointments. These are the people who will know how to write a good review of your dental practice and will likely be happy to do so. All you have to do is ask.
3. Promote your positive reviews
A multi-paragraph, amazing dentist review from a patient shouldn't just sit on Google or Yelp, waiting to be discovered (hopefully) by future customers. Once you have a great patient review, there's nothing wrong with you sharing it with the world.
Ways to bring awareness to positive reviews include:
Embedding them on your website, which Yelp

offers instructions on how to do

;

Hyperlinking to your reviews pages in your email signature;

Including excerpts from reviews in newsletters;

Get a "People Love Us on Yelp" window sticker for your office,

provided you qualify

.
Then there's always the good old-fashioned method of mentioning positive reviews to patients verbally or in a brochure. 
Worry-free insurance verification
Opencare takes the guesswork and effort out of insurance verification.
4. Know how to respond to reviews (both negative and positive)
Take a deep breath and remember an occasional negative review isn't a bad thing. Far from it. Many consumers still approach online reviews skeptically, assuming that businesses pay to suppress any negative review. An occasional two or even one-star review is a good thing. Negative reviews legitimize the other positive reviews. They also give businesses a chance to shine in their response.
When responding to negative reviews, there's a simple three-step process you can follow:
Own the problem

Assure the customer their problem is being fixed

Assure the customer the issue won't be a problem going forward
Positive reviews might not seem as imperative for dentists to respond to, but these matter too. Whether reviews are positive or negative, 89 percent of consumers are reading the responses from businesses. 
Patients want to know that if there's a problem, it'll be dealt with promptly and that if they leave a positive review, businesses will respond graciously.
5. Consistently provide great dental care
This is perhaps most important at the end of the day. Provide great dental care consistently for long enough and the word will spread about your practice. The main purpose of review websites is to amplify good work, so once you have that foundation reviews have a great subject to start with. 
The reviews are in: Opencare helps dentists get found by more patients. Claim your listing today to get started!