Reading Time:
4
minutes
Finding a new dentist can come with challenges. From financial options and location to expertise and customer reviews, there are several factors to consider.
Dentist appointment anxiety is definitely not uncommon. Choosing the right dentists from the get go can ensure you have an awesome dentist experience. Let's discuss.
8 things to consider when choosing a dentist
Make sure they provide the services you need
While every dentist provides cavity treatment, cleanings, and exams, not all have the treatments you need. For example, you might find a dentist that's ideal for you, but isn't comfortable working with children. Or maybe they don't offer implants and bridges. A great dentist will list the services you can afford. They will help manage your dental issues and respect your time and resources. 
Some overlooked services include:
Cosmetic dentistry:

work around the appearance of gums and teeth. This includes teeth-whitening, dental bonding, crowns, veneers, etc.

Gumline treatment:

options like root-planning and scaling can help with receding gums. These procedures remove tartar and plaque buildup. 

Simulation preview:

showing patients a computer simulation of what their smile will look like. This is a great option to preview the results of the future treatment. 
Ask to review the treatment plan before you decide on any procedure. If you take the Opencare quiz, you can select the treatment you want done and we will match you with a dentist who provides that service.
Read reviews
What other people are saying will help determine the dentist's commitment, quality, diagnostics, and treatment based on the client's experience. Around 93% of customers check the reviews of a local business to judge its quality. 
About 86% of consumers look for reviews in the dental industry. And almost all of them believe reviews are a key component of the business.
Don't forget to vet platforms like Opencare or Google reviews. That way, you'll make sure the dentist you pick has a high rating of at least 4.7/5 stars.
Find a dentist who accepts your insurance
To confirm if the dentist accepts your insurance, you can:
Call the dental office

Use Opencare to find a dentist who takes your insurance using our quiz to book a

dentist appointment

.

Check the payment methods on their website.

Contact your insurance provider and ask if the practice is in-network with the dentist you selected.  
Although it might take up some of your time, it's still an important process. You don't want to take on more than you can chew. So, figuring out your expenses before the treatment should be your top priority. 
Find a dentist near you
Finding a high quality and local dentist is important to reducing your dental anxiety. Going to the dentist won't be a chore if they are close to home. However, don't sacrifice distance for quality. You can find a dentist nearby who is also highly-rated with years of experience.
Sometimes you'll see an ad on TV or online. Or you may get brochures in your mailbox. And of course, lots of local businesses advertise on social media. In any case, keep an eye out for any dental office that stands out. 
You can take Opencare's quiz to book an appointment with a top-rated dentist nearby.
Find a dentist right for your schedule
According to a CNBC survey, waiting is the most stressful part of visiting any healthcare provider. During a regular visit to the doctor, 85% of patients claim they wait anywhere from 10-30 minutes. 
A good dentist recognizes the importance of having a flexible schedule. One where you can make a dentist appointment online at any time and can easily fit an appointment into your busy schedule. This flexibility will be your greatest advantage. But, when a dentist is always packed with patients, this flexibility goes out the window. 
Opencare provides you with a platform to instantly book or easily communicate with your dentist and schedule an appointment without picking up your phone.
Make sure the dentist understands your goals
Are you struggling with discolored teeth? Have you tried a bunch of different methods to get them to look whiter? Are you worried about your oral health? Dental patients have all kinds of needs and goals. 
An excellent dentist will understand your goals and live up to your expectations. 
Not only will they help educate patients, but they will also get acquainted with their medical history. Health issues like heart disease, metabolic conditions, and allergies will influence oral health. 
To analyze your dental health state, the dentist will ask you about your medical history. You will fill in a form that will help paint the perfect picture of your current health state. 
Do they use the latest technology?
Find a dentist who offers world-class service with the best technology available. Some of the latest developments include:
Laser dentistry

VELscope

Zoom! whitening

Nitrous oxide and IV sedation

Invisalign 

Digital X-rays
According to experts, advances in dental technology have created a faster and more pleasant experience. They've revolutionized the industry.
Confirm they're taking proper COVID safety precautions
Dentists should be taking extra precautions, particularly with the ongoing pandemic. The CDC recommends dentists take the right safety measures. To minimize the risk of exposure, dentists are selecting only the necessary services. 
They develop a network of personnel who meet CDC requirements and use protective equipment to prevent transmission. If you're worried about your dentist's infection control protocols, you can contact them directly and inquire. 
Don't be afraid to ask questions. Feel free to consult the dentist about the safety measures they follow. Ask how many patients will sit in the waiting room with you? Will the dentist accept minor treatments?  
It's easy to figure out if the dentist abides by COVID procedures. They'll make sure there's no queue in the waiting room. They will use adequate personal protective equipment (PPE) and prioritize their treatments. This is just a normal part of the process while dealing with the pandemic.
Final thoughts
If you want a full-proof method to finding a dentist, check out Opencare, a platform that will check all these considerations for you. Simply take a quiz and it'll match you with amazing dentists near you. And they'll be professionals who accept your insurance.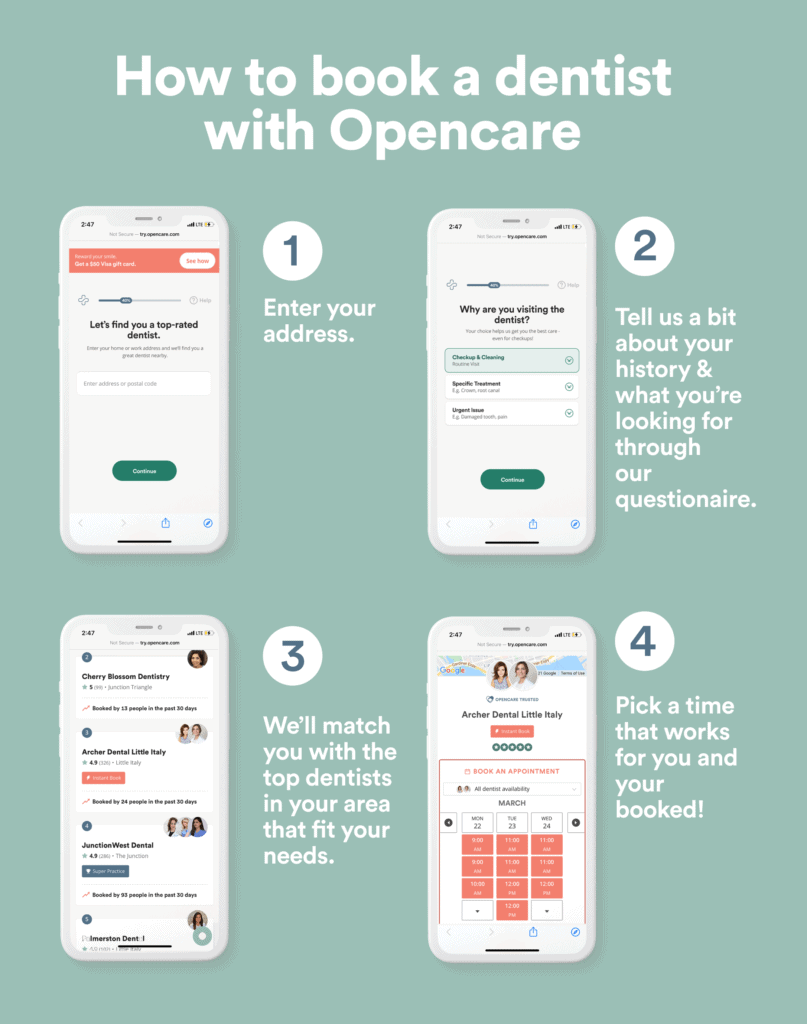 COVID has changed lots of things, including how you book dentist appointments. But, when it comes to choosing one, you still have to do thorough research to find what you are looking for. Options like reading customer reviews, paying attention to ads in your local area, and doing an online search can help. But, if you want to save time and get the job done, then the Opencare platform can help. With it, you get to bypass all these key searching features and find a dentist in minutes.