Reading Time:
5
minutes
At Opencare, we work with thousands of patients across Canada and the United States to find their perfect dentist. We're here as a resource to help answer any questions you may have around dentistry.
In this article, we break down the most frequently asked questions about dentistry in Ontario. 
Are dentists open in Toronto right now with COVID-19?
Yes! Dentistry is considered an essential service as it contributes to full body health, wellness, and preventative healthcare.
Is it safe to go to the dentist during COVID-19 in Toronto if I'm not vaccinated?
It is completely safe to visit the dentist during the COVID-19 pandemic. Dentists are experts in infection control and have implemented strict guidelines required by the RCDSO. To learn more about how dentists in Toronto are keeping patients safe during the pandemic, read the full guide here.
How do I book a Toronto dentist appointment online?
Opencare is an online dental booking platform that connects you to top-rated Toronto dentists who match your needs. We will match you with a dentist in Toronto who is highly reviewed, takes your insurance, offers the services you need, and who fits your busy schedule. You can book everything you need through our online booking platform.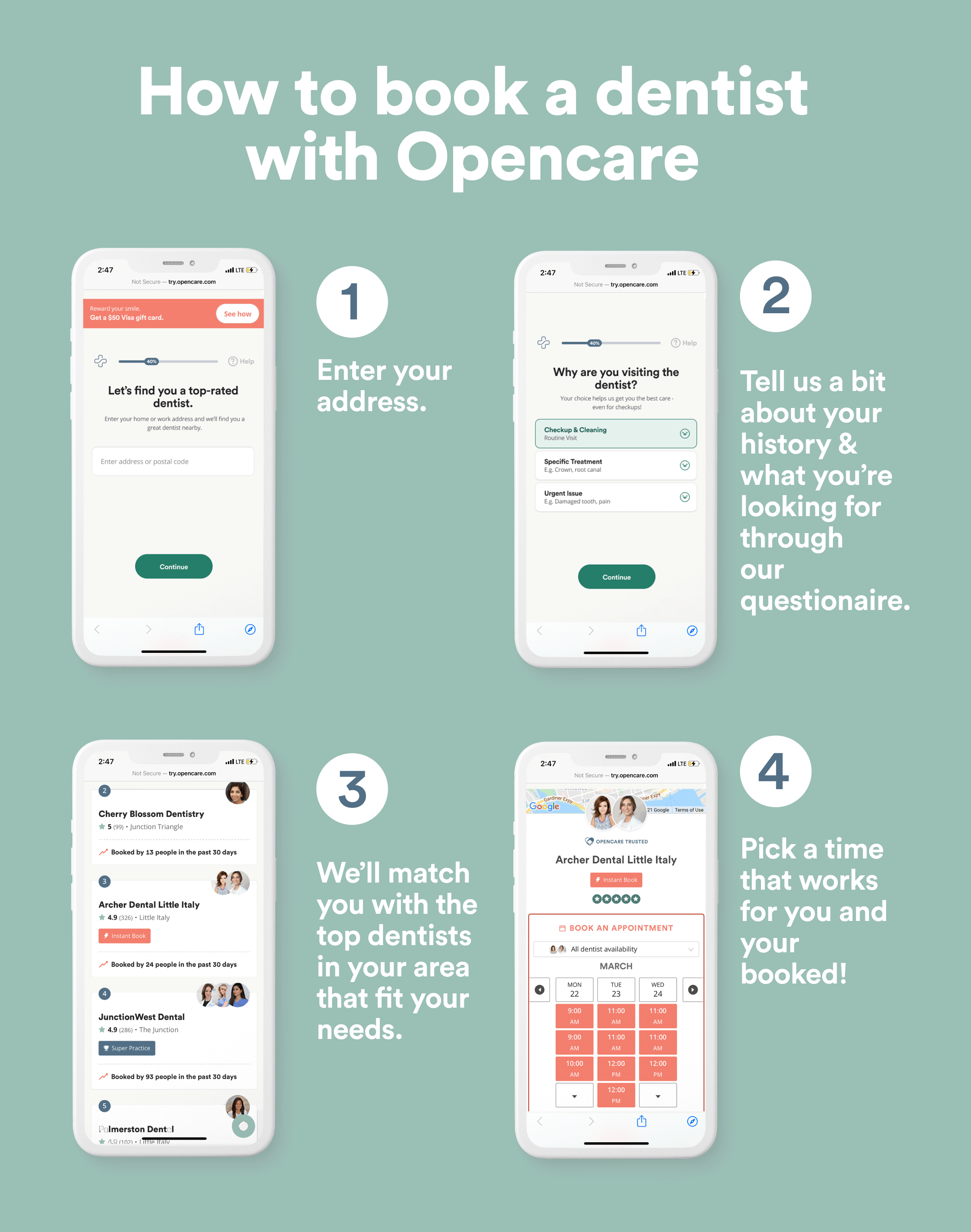 To get started, all we need is your postal code. You then answer a quick quiz, and we'll match you with the best dentist for you. You book your dentist appointment online in minutes. If you're looking to find a new dentist in Toronto, Opencare is a great option.
If you prefer, you use Google Search to find a dentist in your area, and you can vet them yourself to find the dentist who fits your needs. Many dentists offer online booking through their website.
Find a top rated dentist near you that takes your insurance.
How do I find an emergency dentist in Toronto?
Opencare can help you find an emergency dentist for your urgent needs.
If you are experiencing a serious medical emergency and require immediate assistance, call 911 or go to the ER. However, if you are experiencing any urgent dental problem that needs immediate treatment to stop bleeding, alleviate severe pain, or save a tooth, this is considered a dental emergency. 
You should call your dentist immediately.  If you don't have a dentist to call, you can use Opencare to find an emergency dentist.
Step 1. Go to www.opencare.com to find a top-rated emergency dentist near you. Enter your postal code.
Step 2. When you get to the question that asks "Why are you visiting the dentist?", select "Urgent issue".
Step 3.  Select the type of emergency from the options presented, and provide more detail on the issue, pain, or emergency you are experiencing in the written text field.
Step 4. Continue through the questionnaire and once matched with a dentist, select a dentist with an "instant book" option. Here, you can book an appointment at the next available time slot.

Step 5. Call the clinic for an immediate confirmation.
How do I find a good dentist in Toronto?
A good dentist has many qualities that set them apart from other dentists in their area. You want to look for a dentist who 
Has great customer reviews (4.3 stars and over)

Takes time to educate you, not just treat you

Makes booking appointments easy and corporates with your schedule

Has top-rated credentials

Follows strict infection control guidelines for your safety
Opencare has spent years vetting thousands of dentists across North America. We only work with the top 10% dentists in each city. We guarantee you a positive patient experience. 
Find a good dentist in Toronto who matches your needs, has top-rated customer reviews, and ensures your safety at all times by using Opencare. Enter your postal code to start our quiz, and we will match you with a great top-rated dentist in Toronto.
What dental work does OHIP cover?
Ontario Health Insurance Plan (OHIP) does not typically cover dental work. However, OHIP may cover some dental surgery, if it is done in a hospital. OHIP does not cover procedures done at a dental office.
OHIP covers the following in-hospital dental procedures
Fracture repair 

Tumor removal 

Reconstructive surgeries

Medically necessary tooth remova6
What does dental insurance cover in Toronto?
Insurance plans in Toronto typically cover or offset the expenses of common dental treatments and oral surgery that OHIP does not cover. Your coverage depends on your plan. 
Many employers will provide benefits that cover (to some extent) basic preventative healthcare such as check ups, cleanings, x-rays, fillings, and other medically-necessary procedures. If your employer does not provide dental benefits, you can find dental insurance through private insurance companies or through social assistance programs such as Ontario Works.
To find out more about insurance coverage, check out our full guide to understanding your insurance here.
How much does a dental check up cost in Toronto?
The cost of a dental check up in Toronto will vary, but almost all dentists in Ontario follow the current Ontario Dental Association Fee Guide. You can expect to pay about $60 per unit of cleaning in Toronto. Most dental insurance companies reimburse based on the ODA fee guide. This price guide is recommended but optional, dentists across Ontario can price their services at different rates than what is recommended by the guide.
Your dental cleaning will be based on time. The longer the cleaning, the more it costs. This is one of the reasons why seeing a dentist regularly helps reduce your costs in the long run. 
Price Guide for Procedures in Ontario
| | |
| --- | --- |
| Procedure | Cost |
| Cleaning | $114 |
| Full Dental Exam | $148 |
| Tooth extraction | $160-$250 |
| Filling | $80-$353 |
| X-Ray | $35 |
| Root Canal | $532-$8993 |
How much does a filling cost in Toronto?
Depending on the tooth, the type of filling, and the amount of fillings, a filling in Toronto on average will cost you between $80 and $350. 
For example, a small silver filling will cost you about $80 on average. A small white filling will cost you about $190. A large white molar filling can cost you about $350.
Get $50 when you book your dentist appointment through Opencare.
See our full guide to the cost of fillings here.
How much does teeth whitening cost in Toronto?
Typically, you can expect to pay $300-$600 for professional whitening in Toronto. This depends on the dentist, procedure, and products used. 
Ask a nearby dentist about teeth whitening options.
Use Opencare to book a dental cleaning.
See our full cost guide for teeth whitening here to break down your options for teeth whitening here.
How much does Invisalign cost in Toronto?
The average cost of Invisalign in Toronto is anywhere between $3,500-$8000 CAD. This differs by treatment plan,
See our full cost guide for Invisalign here to break down your options here.
Why does dental work in Toronto cost so much?
With healthcare covered by OHIP in Canada, this coverage does not typically extend to dentistry, despite it being a key form of preventative healthcare.
There are a few things that drive up the cost of dental work. This list is not exhaustive, but it's a high level summary of why dental work generally costs more
High-quality, experienced, and professional staff = high labour costs

High overhead costs: rent, utilities, equipment, sterilization and infection control, high tech equipment

Smaller profit margins

Specialized dentists are highly educated doctors with lengthy experience

The cost of operating a full functioning practice is high

Dental insurance in Canada is complicated and dentists don't always earn back fees
Does OHIP cover dental emergencies?
OHIP may cover some dental emergency surgery, if it is done in a hospital. OHIP does not cover procedures done at a dental office.
OHIP covers the following in-hospital dental procedures
Fracture repair 

Tumor removal 

Reconstructive surgeries

Medically necessary tooth removal