Reading Time:
5
minutes
Do you have a missing tooth you want to replace? The empty spot can affect your confidence as well as your health. Luckily, there are a few options available for you and one of them gaining popularity is the mini dental implant.  How much do mini dental implants cost? Let's explore.
What are mini dental implants?
Mini dental implants are tiny implants with a diameter of 1.8mm to 3mm. Intended for long-term use, they're commonly used on patients with limited bone anatomy. 
When a patient doesn't have enough bone surface to get conventional restorations to replace lost teeth, they may need to rely on mini options to fill the empty hole. These products are a stable, durable, and practical solution for missing teeth. And because of their size, they're actually much easier to work with.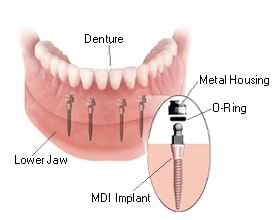 Image Source: Glenview Family Dental
Mini tooth implants consist of two sections: a titanium post and an o-ring. The titanium post is the tiny ball that's located at the end of the implant. While the o-ring is found in the socket and helps attach the dental implant to the area where the tooth is missing.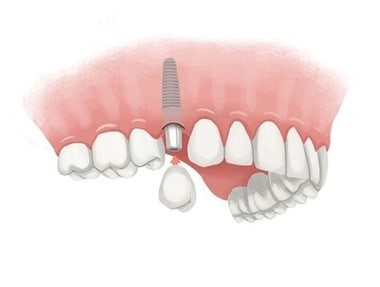 Image Source: Dental News Network
Mini implants have a screw instead of a post.  Your dentist will fix the screw into the gum tissue and insert it directly inside the jawbone. Once the mini implant is placed in the right area, the patient will receive an artificial tooth that will fill the empty spot. 
How much do mini dental implants cost?
Mini dental implants cost can vary by state or province. Since the procedure often requires just one appointment, it's usually more affordable than conventional implants — about $500-$1,500 for a single mini implant.
Notably, the cost of your mini dental implants will vary, depending on their type and placement, how many you need, and your diagnostic scans.
Book a dental consultation.
Find a dentist near you to tell you more about getting started on this procedure.
If you plan on getting multiple implants in one session, the prices tend to be cheaper than having the implants embedded at different sessions. You will also have to pay additional fees for CT-scans or x-rays if you need to prepare them before the procedure.
Another thing to think about is where you are getting the surgery. Experienced dentists who work in the center of the city often charge more for their services, but may perform the procedure more often.
Note: Insurance doesn't normally cover mini dental implants. However, some dentists provide monthly payment plans. 
What's the difference between traditional and mini dental implants?
Traditional implants feature two pieces with a diameter of 3.25mm to 5mm. They're embedded into the bone socket and use an external screw to remain secured in place. These conventional implants require a lot of strong tissue in the lower jaw. Anyone with jawbone atrophy won't qualify for treatment.  
Mini dentures are a single piece. They are not bigger than 3mm and use an end in the shape of a ball to stay inside the jawbone. They are smaller and narrower and don't need as much healthy tissue. So, individuals with insufficient jawbone tissue can still get the treatment.
What both of these procedures have in common is that they are equally successful treatments. 
What are the benefits of mini dental implants?
According to the National Institutes of Health, mini dental implants have plenty of benefits to offer in terms of stability, practicality, and comfort. Because of the quick procedure, less invasive approach, and minimal discomfort, many patients prefer the mini version over any other style. Some benefits include:
One of the key reasons people go for these implants is the minimally invasive procedure. Further, they'll retain their position for a very long time. 
Because of its small diameter, the implant can be placed in areas with low bone thickness and they will still remain stable and improve patients' quality of life. Plus, people feel less postoperative discomfort, and they often don't need stitches. That's why the procedure feels less overwhelming.
Typical tooth implant technology will cut the gum tissue and drill a big hole into the bone. It creates a huge open area for an implant to be inserted and it can take the jaw between three and six months to completely heal. 
Mini teeth implants are different; patients experience minimal surgical trauma. They are easy to remove, and healing is much quicker. Due to the tiny diameter, there is no need to apply significant force to place the implant. 
As a result, the surrounding bone is preserved and requires less time to heal. That's why people will have an easier time eating without feeling any discomfort or pain. 
Bone grafts aren't necessary
When a patient lacks enough bone to support the implant, conventional dental implants typically use bone grafts. Mini implants have no need for that. They provide their own support and are capable of holding the artificial tooth in place. 
In other words, patients don't need to worry about excessive pain, discomfort, or soreness after the procedure, meaning less required pain medication.
Most patients get their implants in a single session and can start eating just a couple of hours after the procedure. There is nothing more practical and fast-acting than these small teeth implants.
When patients experience bone loss, they are vulnerable to facial collapse. But, with these small implants, there is a zero risk of facial collapse. The implant remains secured in the jawbone and acts as a tooth root. This is where the product gets its stability. 
Fewer chances for complications
Dentists have perfected the technique and protocol of using dental implants. It's a fast and easy procedure that's less likely to cause any complications. 
Temporary or transitional dental products are approved by the FDA. That includes long-term dental procedures, like these implants. 
What are the drawbacks of mini dental implants?
Plenty of vertical bone required
Since the screws are extremely long, this procedure requires a solid amount of vertical bone. But, that doesn't mean you can't get it if you don't have enough bone. 
More implants are required for stabilizing the dentures
The jaw will require the use of plenty of these implants to stabilize the implant. Your dentist will need at least four, while typical implants require just two. So, small implants may not be the ideal choice if you have poor bone density in your upper jaw. In these cases, you may need 10 to 12 implants to keep the upper denture stable.
The complete implant will have to be replaced
If the implant wears off after many years of use, your dentist will need to replace the whole thing because it's a single unit that can't be taken apart. With conventional implants, it's completely different. They come in two pieces, and the abutment or head may be replaced on its own.  
How does the mini dental implant procedure work?
Before the procedure, you'll need an x-ray to pinpoint the ideal location for your dental implant. Your dentist will use these images during the surgery and mark the spots ready for drilling. 
The whole process may last up to two hours. You'll receive a local anesthetic. Your dentist will then use a pilot drill to create a tiny hole in the gum tissue. Your implant will be then secured in the gums and snapped firmly in place. 
How long do mini dental implants last?
With proper oral hygiene and the right aftercare, these implants can last a very long time. Some patients even get to use them for a lifetime. 
Where can I get mini dental implants near me?
Now that you know how much dental implants cost, it could be time to find mini dental implants, schedule a dentist appointment at your local clinic, and set a date for a consultation. Look for a personalized treatment that's designed to meet your needs. That includes the use of the latest technologies and techniques. 
Book a dental consultation.
Find a dentist near you to tell you more about getting started on this procedure.
So put in some initial work. Do your due diligence and determine the right kind of implant for you. And of course, talk to your dentist. ('Cause they want the best for you!) With some time and careful consideration, your smile will be back in no time.